Gender Pay Gap Reporting 2021
Our latest Gender Pay Gap figures show a median pay gap improvement of 3.2% during the preceding 12 months across all Avison Young UK Ltd companies. While this is encouraging, our mean gender pay gap has widened by 3.3% and it is therefore important we continue to scrutinise our actions, hold ourselves accountable and provide transparency on our progress.
There is a lot of work left to do, and over the last few years, we have put in place several steps to address gender imbalance across Avison Young. We are continually examining these activities to ensure they are fit for purpose and delivering the results we need to see at each stage of the employee life cycle, enabling us to tackle issues such as pay gaps holistically.
Attracting and empowering the next generation
Graduates – the intake for our 2021 graduate scheme included 38% female grads.
Our Emerging Leaders cohort, a self-governed affinity group supporting and guiding young professionals through facilitating leadership and professional development opportunities, is 43% female.
Promotions across Associate Directors and Directors
In 2021 our ratio of Associate Director promotions was 31% female, increasing this year to 38%. Of our Director promotions in 2021, 71% were women, while this year's cohort accounted for 31% of total promotions.
The promotions process for these important roles requires an independent business case and a panel interview to ensure the process is fair and consistent to all candidates. In addition, our leadership team has access to unconscious bias training, further helping to level the playing field.
Installing diverse senior leadership in key strategic positions
Our UK Executive Committee is chaired by Jo Davis, Principal, MD of Bristol, and National Head of Planning, Development and Regeneration. The committee has over 45% female representation.
Avison Young's UK regional executive boards overall have 23% female representation on average, with Bristol (50%), Birmingham (37.5%) and Manchester (33.3%) offices leading the way towards more equal representation. We aim to further balance these figures over the next year.
A newly appointed D&I Business Partner will also be joining us in May to lead an internal working group tasked to ensure we make tangible progress in improving our diversity and inclusion strategy and developing best practice.
As a business powered by people, we are committed to creating and maintaining an environment where everyone feels valued, supported and empowered. Recognition is a key part of this, as we seek to attract and retain top talent to drive value for our clients.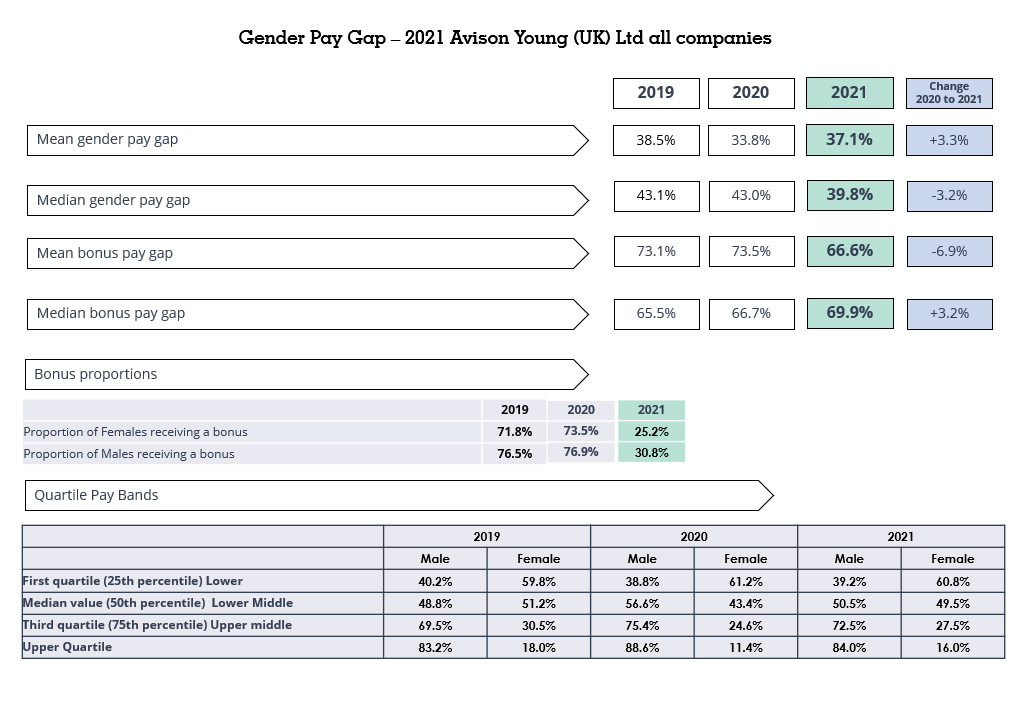 *To provide a full picture of our Gender Pay Gap, the above figures refer to all Avison Young UK Ltd companies, including legal entities with a headcount of less than 250.
Mean gender pay gap is the difference between the average pay of men and women within the organisation.
Median gender pay gap is the difference between the midpoints of pay made to men and women as two distinct groups. Where there is a higher percentage of men in the most senior roles (typically with the highest rates of pay) and a greater proportion of women in lower-level positions, the median gender pay gap will be high.
The gap in gender pay is not the same as equal pay
Gender pay gap reporting identifies the difference between the average pay of all men and all women in an organisation. A gap can occur for a number of reasons. For example, if there are more men than women in senior roles, the overall average pay of men will be higher than the overall average pay of women in the same organisation. The Gender Pay Gap is not an indication of inequality between the salaries of men and women who do the same or comparable work – this is equal pay. Avison Young is committed to equal pay for equal value work regardless of gender or any other protected characteristics.
Jason Sibthorpe
Principal and President, UK
1st April 2022