Great news for street food lovers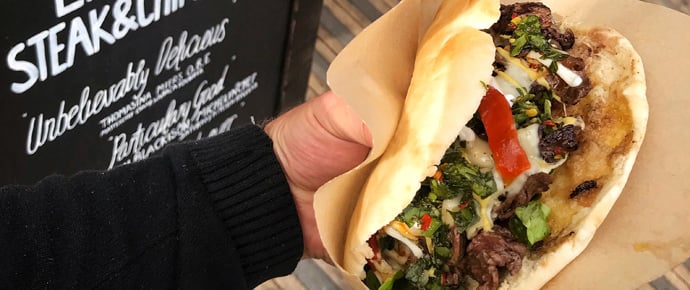 4 Sep 2020
The return of the Temple Quay Market.
The popular street food market at Temple Quay in Bristol is set to make a long-awaited return on Thursday 10th September after an absence of almost six months.
With new measures in place ensuring a Covid secure environment, the lunchtime market will be welcoming back popular independent street food operators including Ah Ma's Dumplings, High Steaks, Niangs Thai Snacks and The Kitchen Chef – something for every taste.
Set in the heart of Bristol's business district, the street food market has been closed during the Covid-19 restrictions, but with people now starting to work again from their offices at Temple Quay, the market is set to make its long-awaited return.
In order to make the market safe and secure for everyone, visitors will notice a number of changes introduced. The market will open earlier to support social distancing, fewer number of stalls will be operating, wider walkways, a one-way system, and signs instructing 2 metre distancing will all be in place.
Vicki Williams of Avison Young, managing agent for Temple Quay says, "This is fantastic news. The street market has always been a popular feature of Temple Quay, and we're so very excited to see it return. It's a great place for people to enjoy a great lunch in a clean, safe environment.
"We've been working hard with the stall operators to make the market safe and welcoming, following national guidelines. People can feel assured that the market is Covid secure, and we're looking forward to welcoming everyone back to enjoy some really delicious street food on Thursday lunchtime.
"We hope people will come and support the market and enable it to return to its regular weekly slot."
The weekly street food market takes place in The Square, Temple Quay from 11.30am to 2.00pm every Thursday.
The market is managed on behalf of the Temple Quay community by Square Route Events, run by David Pyne and Geraldine Roul.
David says, "The last 6 months have been very challenging for restaurants and street food businesses alike, with many offering home deliveries whilst they couldn't trade. There's great excitement at the return of Temple Quay Market, and the traders can't wait to be able to serve their customers again. We look forward to being able to welcome them back again – as well as new customers who live nearby and are now working from home who may be able to make their first visit to the market."
Temple Quay is located next to Temple Meads Station, and is managed by Avison Young on behalf of the Temple Quay Management Company.