Gender Pay Gap Reporting 2020
Jason Sibthorpe, Principal and President UK, said:
"While the last year has provided a challenging climate for business, we mustn't allow this to become a blanket excuse to take the foot off the gas. Gender diversity is still very much on the agenda and it is important to hold ourselves accountable and provide transparency on our progress for a more inclusive, diverse and fair industry.
Our mean gender pay gap across Avison Young UK has reduced by 4.7%, and our median gender pay gap has also seen a slight improvement. While this is encouraging, we acknowledge that there is a lot of work left to do, and we are making progress in several areas.
We have promoted more women over the past year to Principal and Director and have recruited a higher proportion of women into senior roles than in the previous reporting period. We have also recruited more female graduates, which will see a promising increase in gender diverse, next generation talent come through over the next years.
We have designed activities to examine each stage of the employee life cycle, which will allow us to tackle issues such as pay gaps holistically.
Our improved Maternity Pay Policy, introduced in 2019, gives working mothers the opportunity to achieve their personal, family and professional ambitions. Since introducing the new Maternity Pay Policy there have been no resignations from those on or returning from maternity leave.
A newly appointed D & I Business Partner is working closely with many parts of the Avison Young business to ensure we continuously improve our diversity and inclusion strategy and develop best practice.
We have also established a UK D & I Steering Group with a remit to develop and drive a robust diversity and inclusion agenda across the business, working collaboratively with external groups to develop and adopt best practice.
We are active members of Changing the Face of Property, driving greater diversity and inclusion across the commercial property sector; Real Estate Balance, addressing gender imbalance in real estate; and we have partnered with Stonewall for additional support in establishing best practice in D&I.
As a business powered by people, we are committed to creating and maintaining an environment that enables everyone to bring their whole self to work. Put simply, it is the right thing to do – and beyond this, it is what makes us an employer of choice, and also what makes us so valuable to our clients."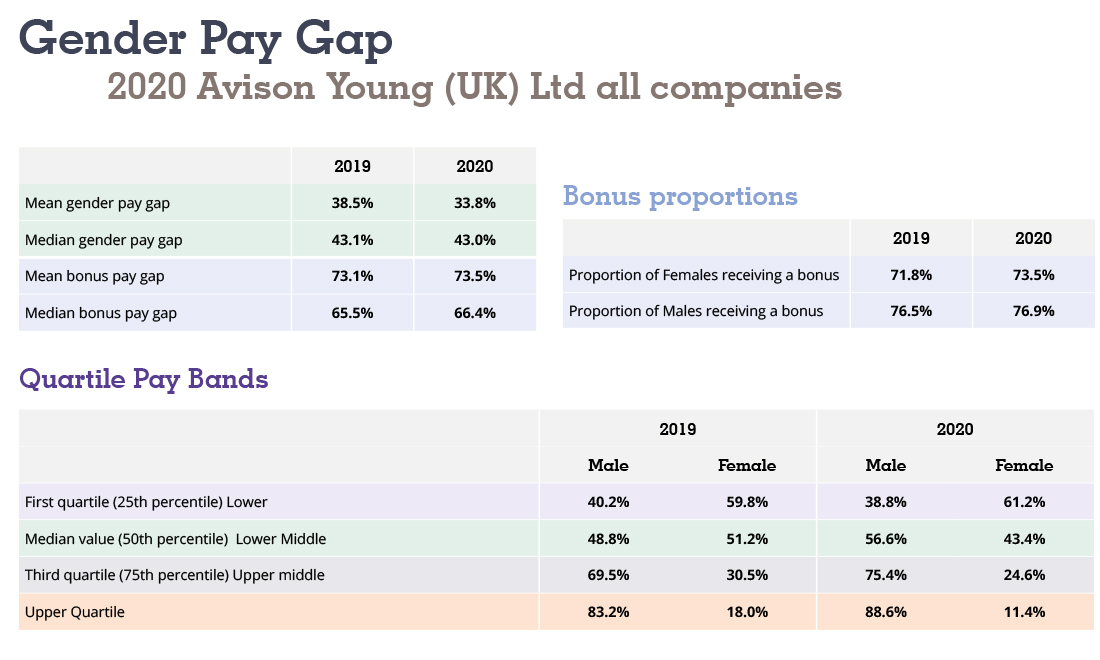 *To provide a full picture of our Gender Pay Gap, the above figures refer to all Avison Young UK Ltd companies, including legal entities with a headcount of less than 250.
Mean gender pay gap is the difference between the average pay of men and women within the organisation.
Median gender pay gap is the difference between the midpoints of pay made to men and women as two distinct groups. Where there is a higher percentage of men in the most senior roles (typically with the highest rates of pay) and a greater proportion of women in lower-level positions, the median gender pay gap will be high.
The gap in gender pay is not the same as equal pay.
Gender pay gap reporting identifies the difference between the average pay of all men and all women in an organisation. A gap can occur for a number of reasons. For example, if there are more men than women in senior roles, the overall average pay of men will be higher than the overall average pay of women in the same organisation. The Gender Pay Gap is not an indication of inequality between the salaries of men and women who do the same or comparable work – this is equal pay. Avison Young is committed to equal pay for equal value work regardless of gender or any other protected characteristics.
Jason Sibthorpe
Principal and President, UK
28th April 2021