GVA secures signifcant Glasgow office deal for George Capital 2 (Glasgow) Ltd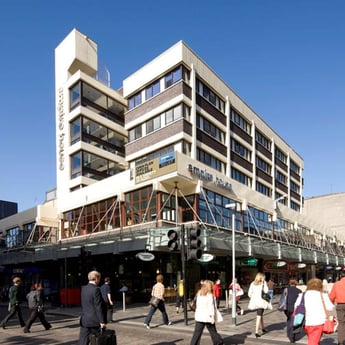 12 Oct 2018
Over 60 new jobs to be created in Glasgow as customer service company agree terms on Empire House.
GVA, acting on behalf of the owner George Capital 2 (Glasgow) Ltd, has successfully agreed a new five-year lease with customer services outsourcing firm, Customer Experience People Ltd (CXP), for the first floor of Empire House, 131 West Nile Street in central Glasgow.
The new lease for 12,242 sq ft of space is a part of CXP's expansion plans and will create up to 60 new jobs. GVA negotiated the early surrender of the outstanding lease agreement with the previous tenant whilst agreeing the new lease with CXP. The space became available when the previous tenant announced plans to relocate.
Michael Facenna, Associate in GVA's Business Space team said: "Securing CXP for the first floor at Empire House whilst simultaneously agreeing the early termination of the previous tenant's lease is an outstanding result for our client, negating any future void and securing continuous income from the largest office floor in the building. George Capital can now focus on its long-term plans for the refurbishment of the property."
"The Glasgow office occupier market in 2018 has been extremely strong and we are continuing to see healthy levels of demand, particularly from those occupiers seeking large floor plates of 10,000 sq ft and above. The sustained occupier activity during the first half of the year has continued during Q3, leading to increasingly tight supply levels meaning occupiers are now reviewing their property requirements as early as possible."
Keith Inch, CXP Chairman, said: "This is an exciting time for CXP and acquiring a third office is a sign of our ambitious plans to expand and create new jobs. We are going from strength to strength and understand we needed space in a great location to attract and retain the best staff and Empire House ticked a lot of boxes for us."
There is only one office suite of 2,100 sq ft left in the building on the third floor which is available on flexible lease terms.
Edgar Property Solutions Ltd acted on behalf of CXP.