Avison Young announces new 'Urban Futures' initiative to reimagine Britain's high-streets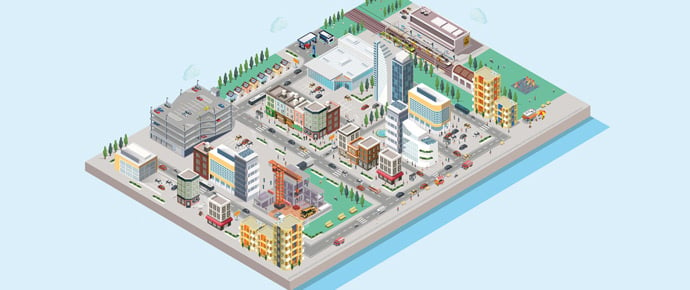 27 Jul 2020
Avison Young advises public and private sectors on short term recovery tactics and longer-term structural changes needed to ensure the future of the high-street.
Avison Young has launched an initiative to help public and private sector clients navigate the recovery of the high-street post COVID for both the short-term and long-term future.
How town centres approach attracting the public back will have a lasting impact on the future of urban spaces. Retail may no longer be the primary reason most people visit their high street regularly, as the experience of shopping has shifted. This presents the opportunity to reexamine aspects of high-streets that can be improved to provide more inclusive, diverse spaces that engage the public and keep them returning to the town centre.
Avison Young has identified three timeframes that will be key to shaping the town centres of the future; Reopening, Reanimation and Reimagination. Each phase is examined in detail as part of the 'Urban Futures' initiative, which has been specifically designed to provide a wide range of considerations for both local authorities and wider stakeholders.
Martyn Saunders, Director of Planning, Development and Regeneration at Avison Young said: "Many retail and commercial properties will need to be repositioned to respond to changing consumer habits around working, living and shopping.
It is important for the public and private sectors to work hand-in-hand to understand the challenges and opportunities for their unique circumstances. For local authorities, there is a huge opportunity to harness development appetite, local grassroots initiatives and institutional capital to drive urban renewal and make town centres more resilient, accessible and engaging in the future."
Reopening
The majority of town centres are in the process of reopening, and during this phase the immediate changes that are being made are focused around helping people to feel safe and welcome when visiting the high-street. Avison Young has been working with town centre stakeholders to communicate, implement, monitor and improve emergency changes such as road closures, socially distanced layouts and adapting public spaces. While these are often seen as temporary, they offer a real time test of improvements that could be embedded in the long-term to the benefit of town centre users.
Reanimation
When looking at the mid-term changes, local authorities need to consider the cultural and community aspects of town centres to 'reanimate' the high-street, blending the commercial offer with more cultural, community and civic amenities. By ensuring empty shop fronts are adapted for alternative uses, such as shared and serviced office spaces, creative studios or makerspaces, towns can support local SMEs and provide a positive contribution to the wider community. The pandemic has also put a spotlight on the requirement for accessible public green space, including free outdoor gyms, running tracks and gardens to attract footfall from people of all backgrounds, particularly as we enter a recession and disposable income levels stagnate. There are significant opportunities to work towards the evolution of the high-street, ensuring it stays vibrant, successful and inclusive for a wide range of people and communities.
Reimagination
While addressing the structural challenges that town centres face, Avison Young works with stakeholders to develop strategies that embrace and enable more significant changes and create a sustainable urban future. At this point, long-term planning comes into focus, considering the more permanent amenity and infrastructure mix of a high-street, including the provision of residential, commercial, civic and cultural spaces.
The next generation of town centre living opportunities should be much more diverse and accessible to various groups, from young professionals to families and key workers to retirement housing. A range of different housing types will lead to a diversity of residents, making town centres more welcoming and appealing to their wider communities.
Martyn says: "Embracing the shift of the town centre is crucial to ensure it remains vibrant and successful while encouraging visitors to return and keeping it at the centre of the local community".
You can explore the 'Urban Futures' site here.