Avison Young adopts UN Sustainable Development Goals alignment protocol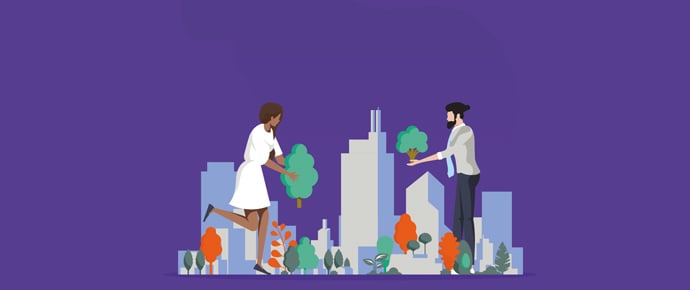 16 Oct 2020
Strategic real estate advisor puts planet and people first, adopting Sustainable Development Goals and becoming a signatory to the UN Principles for Responsible Investment
Avison Young has adopted the UN Sustainable Development Goals (SDGs) alignment protocol, which acts as a blueprint to achieve a better and more sustainable future. In addition, the firm's Global Investment Management group has become a signatory to the UN Principles for Responsible Investment (PRI).
Both steps are featured in Avison Young's new 2019 Global Citizenship Report as the business expands its Environmental, Social and Governance (ESG) and Wellness strategy, in line with Avison Young's brand purpose to create real economic, social and environmental value, powered by people.
Avison Young has identified eight SDGs where it can make its greatest contributions – both as a business and as an advisor to clients – focusing on clean energy and climate action; good health and social justice; and sustainable cities and responsible consumption.
"We believe that the most successful companies realise that profits are inextricably linked to social purpose. We're evolving our Global Citizenship strategy to address our own and our clients' evolving ESG needs to tackle some of the world's most pressing issues," said Jason Sibthorpe, UK President at Avison Young. "Commercial real estate can and should have a positive impact in people's lives and we are working together to find better ways for real estate to perform at a human scale to meet our clients' needs, goals and their own ESG commitments."
"ESG and Wellness are more important than ever to us and our clients – from corporate occupiers to local authorities, to investors and developers," said Jon Gibson, Head of Sustainability at Avison Young. "We are shifting from incremental targets and progression in our ESG performance to embedding ESG best practices in how we perform our services and stretching our ambition. We are in a position to influence not only our own impact on the planet, but also those of our clients and the communities in which we work."
Along with providing more in-depth ESG training to employees, Avison Young plans to add to its dedicated professionals to deliver technical expertise and support the growing suite of sustainability products and services for clients. This builds on its current sustainability consulting and management services – from ESG strategy and reporting to net zero carbon and climate risk strategy to project design and health and wellbeing consultancy for occupiers, developers and landlords.
As part of its evolved ESG and Wellness strategy, Avison Young is conducting a materiality assessment to help identify the ESG themes and impacts that matter most to the business. In aligning the its program with universally used frameworks such as the UN SDGs and UN PRI, Avison Young will be expanding its future performance reporting.
Earlier this year, Avison Young committed to achieving net zero carbon in its UK workplaces within the next decade and pledged to inspire and lead clients on their own transition to net zero carbon buildings and communities.