Back
Avison Young secures the sale of land for 2,200 new homes in the South West
Avison Young secures the sale of land for 2,200 new homes in the South West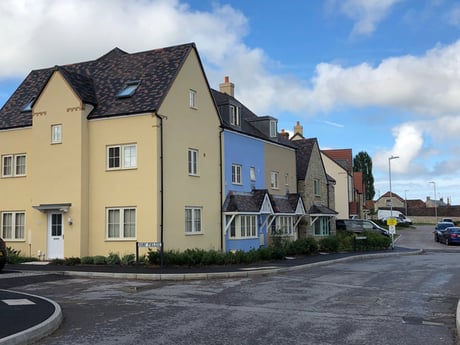 10 Jul 2019
A series of deals this year sees 308 acres of land sold.
The sale of land at Blackberry Park in Frampton Cotterell in South Gloucestershire to Barratt Homes for 215 new homes, is the latest in a series of land sales negotiated by Avison Young in 2019 that will see 2,200 new homes built in the South West.
Since the beginning of the year, real estate advisor Avison Young in Bristol has contracted the sale of a total of 308 acres of land across Gloucestershire, South Gloucestershire, Somerset, Wiltshire and Bristol, helping boost the regions' ambitions for new housing. With a combined value of over £100million, the land sold will provide opportunities for the new owners to bring forward homes on smaller, new build sites, brownfield land, as well as within new urban extensions. Of the total number of units planned, 765 will be affordable.
In South Gloucestershire, four sites are now moving forward. As well as the land in Frampton Cotterell, Ladden Garden Village in North Yate, progressed by Barratt Homes has seen land for 250 units acquired by Bellway Homes. In Thornbury, David Wilson Homes has acquired 19.8 acres on a site promoted by Ainscough Strategic Land that will see 130 new homes being built. And in Yate, the sale of the former Magistrates Court to Sovereign Housing will see 50 new dwellings created.
At Innsworth in Gloucestershire, Avison Young working with Robert Hitchins Ltd and a private landowner, completed the sale to Taylor Wimpey for the development of 1,300 dwellings.
In Blunsdon, Swindon, 100 new homes will be built on land sold by Ainscough Strategic Land on behalf of a private landowner with a sale to Backhouse; and in Ilchester, Somerset at Hainbury Farm, Avison Young has negotiated the sale of land to Galliford Try Partnerships for a further 150 units. Avison Young also advised on the planning at Hainbury Farm.
Meanwhile in Bristol, Avison Young has just concluded the sale of Decourcy House, the 1960s built former office block in St Pauls, to a local developer for 22 dwellings.
Gordon Isgrove, managing director at Avison Young in Bristol says, "Land sales, planning consent and development of new homes takes time. Some of these sites have been years in the making, with a huge amount of work put in by the respective professional teams in order to secure planning permission. One site has consent for permitted development, and the remaining all provide policy compliant affordable housing provision of between 30 and 35%.
"With these 8 sites we are helping bring forward 2,200 new homes, of which 765 are affordable, which is a huge boost for the regions' housing targets this year."