Back
Avison Young helping put Exeter College at the forefront of digital technology learning
Avison Young helping put Exeter College at the forefront of digital technology learning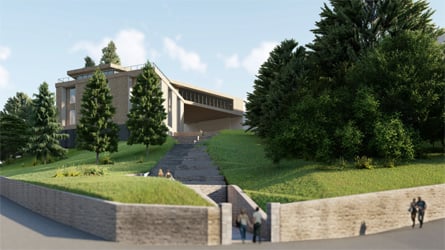 9 Aug 2019
Avison Young has been advising Exeter College in Devon with its plans for a new multi-million pound Digital and Data Hub at its Hele Road campus.
Helping improve the technology education provision in the city, the new centre will cater for up to 1,549 students, ranging from post A-Level to degree apprenticeship level.
The three-storey centre will comprise an extension to the existing Hele Building at the main entrance to the south east of the Hele Road campus, in line with the College's emerging development blueprint.
Sally Davis, Associate, at Avison Young in Bristol says, "Exeter has a strong and growing reputation as a leading centre for technical and digital innovation and growth. Working with the Universities of Exeter and Plymouth, other colleges from across the South West, and leading organisations such as the Met Office and Oxygen House, Exeter College is driving forward the delivery of technology education in the city.
"The Digital and Data Hub will provide unique collaborative spaces to support cross institutional initiatives and engagement with local major employers and stakeholders."
The Digital and Data Hub forms part of a wider £70 million masterplan for the redevelopment of the main city campus of the award-winning further education college. Exeter City Council Members recently resolved to approve outline planning permission for the redevelopment of the site over a 15 year period.
Jo Davis, Managing Director Planning, Development and Regeneration at Avison Young, adds:
"The masterplan will deliver new entrance gardens, a landscaped courtyard and a new green pedestrian spine running through the campus, improving pedestrian links between St David's Station and the city centre and sensitively addressing the heritage assets within and surrounding the site.
"Most critically though, the plans future-proof Exeter College's home within the heart of the city; the plans ensure the buildings needed to accommodate the growing demographic of 16 – 18 year olds within the region and the increasing popularity of the College, can be delivered within this important city centre site.
"These decisions by Exeter City Council are great news for Exeter College and for the city. As well as putting Exeter College at the forefront of digital technology learning, the development will help deliver urban change and investment in the heart of Exeter."
Avison Young led the master-planning team which included KTA, AWW Architects, Clarkebond, Peninsula Project Consulting, LHC, SDS, Cotswold Archaeology, JP Transport and KOR Communications.