Back
The NAWIC Conference 2019 – Coming together to change the industry for the better
The NAWIC Conference 2019 – Coming together to change the industry for the better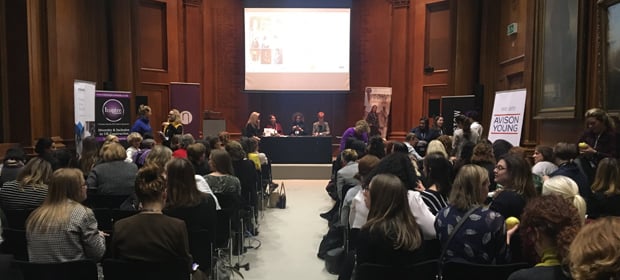 22 Nov 2019
The National Association of Women in Construction (NAWIC) Conference, sponsored by Avison Young, was held on 15th November with a record attendance at the RICS headquarters in London's Parliament Square.
192 delegates took part in the early evening conference held to provide attendees with the tools they need to make a positive change in their workplace and their industry as a whole. The conference also supported RICS' Equality Diversity Inclusion Agenda.
Amongst the 17 speakers were Kath Fontana FRICS, the current Vice President of the RICS and Anna Keys, MRICS, Chair of the RICS's Matrix Group. The conference showcased inspirational women making real change in their professions, along with a series of debates and practical workshops, including The Female Boss and The Value of Diversity Driven Networks. Next year Kath Fontana will become the 3rd female President of the RICS.
Rosemary Silver FRICS, Associate of Avison Young and NAWIC London & SE Conference Organiser, comments: "It was fantastic to see such a strong presence from women and men across the industry, coming together to make strides in diversity within the property industry. This year's record turnout demonstrates the desire for people from all genders and backgrounds to collaborate to change the industry for the better."
For more details on event, read the NAWIC Conference brochure here.