Back
Avison Young's latest Big Nine office report notes above average take-up despite market uncertainty
Avison Young's latest Big Nine office report notes above average take-up despite market uncertainty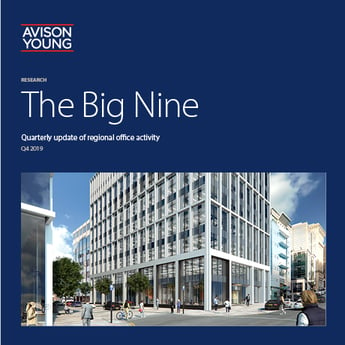 21 Jan 2020
Analysis of regional office activity in Q4 2019 reveals pent up demand for 2020.
Total take-up across the Big Nine office markets (Birmingham, Bristol, Cardiff, Edinburgh, Glasgow, Leeds, Liverpool, Manchester and Newcastle) amounted to 8.8 million sq ft in 2019, 3% above the ten year average and comparable to 2016, a year that was similarly dominated by political uncertainty.
The regional markets continued to attract headline deals in 2019. JP Morgan Chase agreed the largest deal of the year, a 272,800 sq ft pre-sale in Glasgow, while BT Group signed the first of 13 hub relocation transactions, taking 200,000 sq ft at 1 Assembly in Bristol during Q4.
Manchester was the most active market in 2019, with a total of 2.3 million sq ft transacted. Birmingham, Glasgow and Leeds all saw in excess of 1 million sq ft of activity, with the majority of cities seeing figures just over, or close to, the long-term average.
Charles Toogood, Principal and Managing Director, National Offices, said:
"There is currently 5.8 million sq ft of space under construction across the Big Nine, 56% of which is already pre-let, underlining the ongoing appetite of occupiers in regional markets. 2020 will see the completion of more than 1 million sq ft of developments from the first phase of the Government programme and the arrival of thousands of government employees to these brand new hubs, further enhancing the vibrancy of the Big Nine city centres."
Investment volumes across the Big Nine cities totalled £559 million during the final quarter of 2019, down 2% on the ten year average, while figures for the full year were up 12% on the ten year average. Across the full twelve months, Birmingham, Edinburgh and Leeds led activity, all transacting between £500 and £600 million, boosted by two significant £200 million plus deals in Leeds for L&G.
The largest deal in Q4 was the sale of the mixed-use Mailbox in Birmingham by Brockton Capital to M7 Real Estate. The final quarter of the year also saw the second largest out-of-town transaction of the year, the sale of eight buildings at Quorum Business Park in Newcastle for £32 million to Shelbourn Asset Management.
Mark Williams, Principal and Managing Director, Regional Investment, said:
"There is sufficient pent-up demand to suggest that the first half of 2020 will see increased activity from investors, before activity slows ahead of the Brexit deadline at the end of the year. The search for income has become increasingly challenging, and we expect investors to continue bidding aggressively for assets that offer long-term secure income with strong covenants – although the supply of such opportunities continues to diminish.
"A combination of dynamic economic performance in regional cities and a lack of readily available office stock has driven rental growth in recent years and we expect this to continue. Where shortages of grade A stock are acute in cities such as Leeds and Edinburgh, this is providing opportunities for the refurbishment market, and is also prompting a tightening of secondary supply."
To read the latest report, please click here.