Central London office investment surpasses 10-year average following alleviated uncertainty at year-end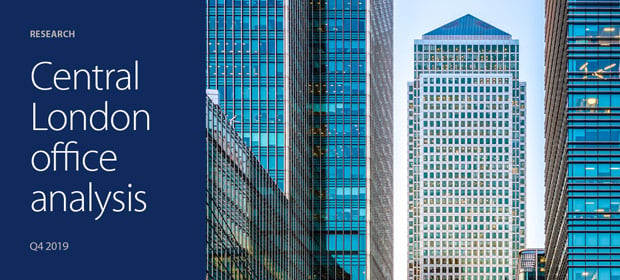 5 Feb 2020
Avison Young releases latest Central London Office Analysis report.
According to Avison Young's latest quarterly Central London research, Central London take-up totalled 3.3 million sq ft in Q4 2019 which was 28% above the 10-year average. Overall 2019 take-up totalled 12.3 million sq ft, making it the second strongest year on record. The Central London development pipeline continues to be starved of options, while under construction space remains in high demand, setting the market up for a strong start to 2020.
Steady take-up despite market uncertainty is partly the result of booming hybrid sectors, primarily Fintech which has seen rapid growth in London to become one of the city's top performers. In Q4 2019, hybrid occupiers such as Monzo and Deloitte Digital took space, these two acquisitions alone accounted for a combined 15% of City take-up. With Fintech now an established component of the Central London office market, 2020 may see other hybrid sectors rise in importance, such as Proptech and Legaltech. Meanwhile, the serviced office sector has entered its next stage of maturity as we see more consolidation on the horizon. The sector accounted for just 16% of take-up for the quarter, which was a drop on Q3 2019's 23%.
With just 3.4 million sq ft of available stock currently due for completion in 2020 across all size bands, the market may be facing a supply shortage in the coming year, putting positive pressure on rental levels throughout Central London.
Alasdair Gurry, Director, City and Docklands Agency at Avison Young, said: "Rents for the most sought after spaces in the City continue to surpass previous benchmarks and in some instances achieve levels comparable to the West End. However, in a footloose market, geographical boundaries are increasingly redundant with occupiers placing more importance on quality of space, digital and transport infrastructure, and value for money."
A return to activity at the year end from investor groups who were quieter while uncertainty endured created a significant boost to total investment volumes in Q4 2019. Volumes reached £4.8 billion in Q4 2019, 31% above the 10-year average and 11% above the same period in 2018. Q4 2019 was the busiest final quarter of the year since 2014, with significant transactions including PonteGadea's purchase of The Post Building, WC1 for £610 million, EPF's acquisition of Premier Place, EC2 for £327 million, and KWAP's purchase of 100 Cheapside, EC2 for £141 million. Overall 2019 volumes were still subdued totalling £12 billion, 20% down on the 10-year average.
With 2019 having placed a hold on pricing growth, London now stands at a considerable pricing discount to mainland Europe, which is driving investment activity from investors attracted by the relative good value and potential for capital appreciation. With demand now returning to the London market, prime City Core yields contracted 25 bps for the fourth quarter of the year.
Chris Gore, Principal, City Investment at Avison Young, said:
"The flurry of year-end deals in the final quarter is evidence that confidence appears to have been restored with the strong occupational market fundamentals back in focus driving interest for core and value-add stock. Particularly German, Malaysian and North American investors, who were put off London during the midst of the uncertainty, are increasingly looking to London as a safe haven while their countries manage their own political issues. This is providing London with much needed context on the global stage and offering fair value when you compare it to core yields in most of the mature European markets."
Download the latest report here.