Avison Young releases latest Big Nine regional office market update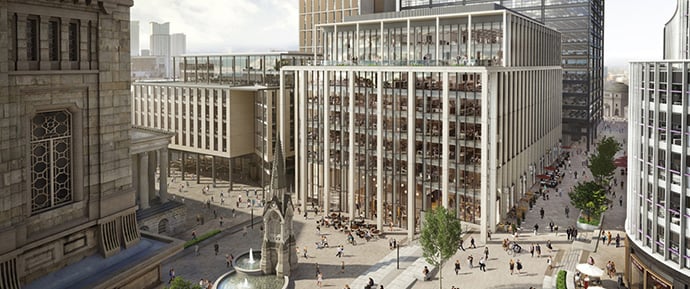 3 Feb 2021
Large pre-let commitments and speculative starts provide optimism following low take-up in 2020.
Strategic real estate advisor Avison Young has released its latest quarterly Big Nine office market update, covering Q4 2020, the year in review and predictions for 2021.
Total take-up across the Big Nine cities amounted to 5.6 million sq ft during 2020, the lowest annual figure following the Global Financial Crisis and 33% down on the ten-year average. In most cities, take-up was severely impacted by the pandemic. However, activity remained robust in Newcastle and Bristol, which fared the best of the nine cities.
Activity improved in Q4, with take-up amounting to 1.5 million sq ft, 25% down on the ten-year average but higher than the previous quarter and double the amount transacted during the spring lockdown in Q2. Activity towards the end of the year included a number of pre-letting deals, such as 175,000 sq ft to BT in Manchester and 121,000 sq ft to Legal and General in Cardiff.
Headline rental levels have largely sustained throughout the pandemic and in some cases increased as landlords have held firm, although there is some evidence that rent-free periods have moved out slightly.
Charles Toogood, Principal and Managing Director, National Offices Team at Avison Young, said:
"During an unprecedented time of uncertainty for the office market, there were some encouraging signs of activity towards the end of the year. The markets have seen a number of significant pre-letting deals and on the supply side several speculative schemes across Bristol, Leeds, Manchester and Newcastle have started on site, totalling 900,000 sq ft."
Investment volumes across the Big Nine cities totalled £580 million during the final quarter of 2020, 2% up on the ten-year average and the busiest quarter of the year. However, with slower activity in the previous two quarters, the total for 2020 amounted to £1,5 billion, down 34% on the ten-year average.
Q4 proved positive for the office market, as there were four large deals between £85 million and £120 million. These were led by two in Manchester: Helical sold the Powerhouse Portfolio, comprising three Manchester office assets for £119 million and Warrington Borough Council forward funded BT's new super Hub at 4 New Bailey for £112 million, reflecting a yield of 4.25%. Oval Real Estate purchased 1 Colmore Square in Birmingham for £87 million and M7 bought Bridgwater Place in Leeds for £84 million.
For the year as a whole Manchester led the activity at £325 million, followed by Birmingham at £278 million and Bristol, Leeds and Edinburgh at circa £200 million of transactions each.
Interest from overseas buyers remains in line with the annual average, while interest from property companies was greater than the average at 33%. However, institutional investment was subdued, accounting for 14% of volumes.
Towards the end of 2020 a number of assets came to the market, but many have yet to transact. Whilst there is interest in these opportunities, vendors' and purchasers' expectations on pricing are not quite aligned. There continue to be logistical issues due to Covid travel restrictions.
The average of prime yields across the Big Nine ended the year at 5.31%. This has remained steady over the past few quarters and compares to a cyclical low of 5.08% at the end of 2018.
Mark Williams, Principal and Managing Director, Regional Investment at Avison Young, said:
"We expect sentiment to remain subdued for the first quarter of 2021 while tough lockdown restrictions remain, but once these are eased, we anticipate continued investment activity for prime city centre offices and in some well-located out-of-town developments where there are strong levels of occupational demand. However, there is likely to be an increase in the yield gap between prime and secondary property as investors continue to favour grade A, long income and good covenants."
To read the full research update on Big Nine office markets (Birmingham, Bristol, Cardiff, Edinburgh, Glasgow, Leeds, Liverpool, Manchester and Newcastle), click here.