Avison Young appointed to Cheltenham's Cyber Central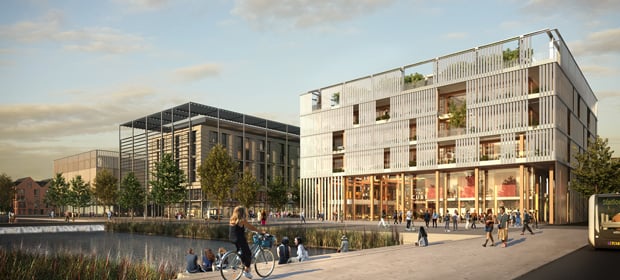 5 Feb 2020
Avison Young has been appointed by Cheltenham Borough Council and Tewkesbury Borough Council to provide planning and development advice.
Avison Young is leading a team including Allies and Morrison Architects and Hydrock, to prepare a strategic masterplan and a Supplementary Planning Document for a world class development at West Cheltenham to be known as Cyber Central Garden Community.
The masterplan vision is to create a vibrant pioneering community integrating hi-tech business, residential and leisure uses. It will require the highest standards of environmental sustainability integrating exemplar homes as part of a thriving campus and garden community.
A partnership with Gloucestershire County Council, and GFirst LEP, Cyber Central will aim to provide barrier-free knowledge-sharing and collaboration between industry, academia, government and the local community. Gloucestershire is already home to the UK's most vibrant Cyber Security community: it is home to GCHQ as well as a growing network of cyber technology businesses.
The Cyber Central site comprises 132-ha and as part of the Garden Communities programme will build communities with local character, good employment opportunities and integrated and accessible transport. Homes England will be working with all the partners to deliver the project.
Jo Davis, Principal at Avison Young comments, "The opportunity presented at Cyber Central has the ability to put people and places at the forefront of growing a resilient Greater Cheltenham through an innovative and ambitious plan-led approach."
Public consultation on the draft masterplan and Supplementary Planning Document is currently underway until 17th February and can be accessed via https://cybercentral.commonplace.is.