Avison Young supports delivery of new Fire and Police station in Hanley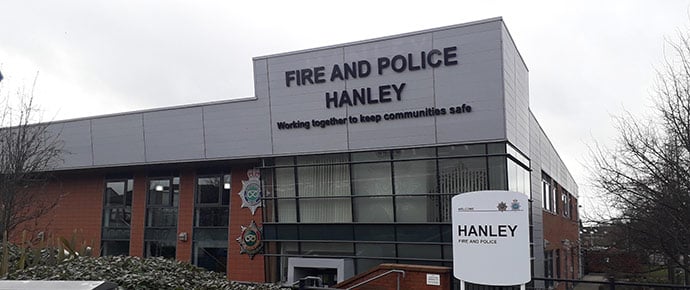 16 Feb 2021
Combined emergency services hub set to increase cost efficiencies for Staffordshire Fire and Police Services.
Strategic real estate advisor Avison Young has successfully delivered a project of strategic importance for the Staffordshire Fire and Police Services, known as "Fire and Police Hanley". This site is one of 10 fire stations in the Stoke and Staffordshire PFI project that Avison Young operationally manages on behalf of Fire Support investors.
Avison Young's Infrastructure Management team advised on risk management for all stakeholders, including the fire and police authorities, shareholders and lenders, and actively managed all aspects of the project from inception to completion collaborating with the Authorities estate team and incumbent FM contractor. The tight timescale to complete the traditional design and build works programme was especially challenging in the light of COVID restrictions. However, the extension to the Hanley facility was completed in December 2020, on time and on budget.
The site, which has been considerably re-modelled, now has the potential to accommodate 270 police officers and 90 fire fighters, was originally designed for the sole use of the fire service. Combining the previously separate emergency service premises, which were within walking distance of each other, represents significantly improved facilities for the local emergency services.
Nick Harris, Managing Director of Infrastructure Management at Avison Young, said:
"In today's climate, our public sector clients are looking to use their resources more efficiently to be both financially and environmentally sustainable, allowing vital funds to be reinvested to serve the community. Avison Young was central to managing the process for stakeholders - delivering a fantastic re-modelled facility in a very short space of time in the most trying of circumstances.
"Having rolled out a smaller project for shared use at Tamworth Fire Station earlier in 2020, we have developed two bespoke solutions for our client that form part of their wider 'One Public Estate' initiative, and this is testament that PFI projects can provide flexible solutions for the changing needs of clients."
"Sharing buildings is not only good value for public money, it will help to maintain spending more effectively on the emergency services in what is likely to be a very difficult financial climate post-Covid."
Avison Young's dedicated Public Estate Advisory Team has been actively supporting the One Public Estate programme for multiple years, working with Local Authority-Led Partnerships to develop programmes and secure capacity funding to drive forward asset-based collaboration projects.