Covering every facet of real estate finance
We appreciate that our clients' objectives differ: our range of specialist real estate finance services reflect that diversity. Our financial experts help clients to source private finance to fund capital projects, helping to deliver major housing, infrastructure, regeneration and mixed-use developments. They also carry out equally wide-ranging work for the public sector, advising on accounting, funding and getting value for money from a single asset or portfolio.
The built-in flexibility of our services means that they can be configured to any project. We advise on everything from the creation of funds and financial operation of major urban regeneration vehicles, to joint ventures and acquisitions. Our experts can set up debt and equity funding through our extensive contacts in the banks, private equity markets and the public sector. And we have specific technical expertise in financial feasibility studies, funding strategy, due diligence and delivery.
GVA Financial Consulting Limited, trading as Avison Young Real Estate Finance, is authorised and regulated by the Financial Conduct Authority (FCA).
Public sector finance
We've forged a strong relationship with the public sector. It's based on an understanding of the financial pressures facing public bodies in balancing limited resources against competing priorities.
We assist them with a broad range of finance-related matters, from joint ventures with the private sector to creating urban regeneration vehicles.
Our financial consulting team is made up of CIPFA qualified experts who have worked in local government. That knowledge of the mechanics of public sector activities, and the financial imperatives of public bodies, adds an invaluable layer of depth to our advice.
We give local authorities and other public organisations financial clarity. Our advice helps them to reduce costs, streamline their operations, fund infrastructure projects, and carry out vital housing projects. The D2N2 Local Enterprise Partnership recently came to us for advice: We drew up a detailed funding and delivery model for the East Midlands HS2 growth strategy, a key plank in the region's development plans.
Over the past year we've also helped to give Bristol Council financial clarity in relation to a much-needed housing development scheme in the Lockleaze area. And we've worked on major projects for Birmingham Council and the Greater London Authority – helping them to assess the financial viability, and impact, of major development schemes.
Debt advisory
Our array of specialist debt advisory services are designed to foster optimal financial conditions for our clients' businesses to thrive.
Borrowers looking to finance their real estate project are able to draw on the expertise of our debt brokerage experts. We find the right lender for their property or scheme, and work hard on their behalf to secure debt at the best rates.
We also identify the ideal debt arrangements to suit our clients' circumstances. It's a process that may involve us carrying out detailed audits, or restructuring their debt.
A deep understanding of the property market is shared by every one of our experts, and that knowledge infuses all of our advice. Our core services are:
Debt broking
Our Debt and Equity broking team locates crucial investment and development finance for commercial and residential properties as well as infrastructure projects.
Our network of lending contacts is extensive, so we can shop around for the best terms on the market on our client's behalf. We take the time to get to know the texture of their business, end goals, and the project which needs financing. With that information, and our intimate knowledge of the market, we work through our extensive network of contacts in the financial services to secure a deal that matches the client's exact needs. Because we've forged relationships with UK clearing banks, life insurance companies, alternative lenders, pension funds, government agencies and a clutch of other lending institutions – domestic and international – we have a wide spread of possible financing options, and explain them in clear, unambiguous terms.
We're often asked to stay on after debt has been secured, to help deal with day-to-day reporting needs, and assist with the financial arrangements of our clients – a mark of the confidence they have in our skill, expertise and professionalism.
Debt audit
If you've already secured debt, we may be able to help you improve the terms. Our real estate finance specialists will carry out a thorough review of your current banking arrangements. We examine your loan documentation in detail, drawing up a summary of the key terms. Our valuation consultants then conduct a desktop assessment of the property's value, which helps us form a view on the most suitable debt structure for you.
Debt structuring
If you've identified an acquisition, or you're planning a real estate development, we can work out the most efficient debt structure for your specific aims. We do this by analysing the asset, the value and the cashflow. We then craft a financial model that can be fine-tuned to show available financial covenant headroom in different possible scenarios.
Debt restructuring
Our experience of advising borrowers on restructuring of existing loans is extensive. We understand that the restructuring process requires sensitivity, as well as financial astuteness and commercial awareness. Our advisers always factor that into our advice, which covers negotiation of discounted debt purchases, injection of new equity, selective sale of non-core assets, covenant waivers, refinancing and negotiating amended or new loan agreements with existing lenders.
We're also used to dealing with multiple creditors, with differing objectives.
Structured finance
Structuring the finance of a development or investment project is an art. It requires a combination of financial acumen, market knowledge and a detailed understanding of commercial property.
Because those are the qualities cultivated by our structured finance specialists, we're ideally placed to help clients successfully deliver a development, or make a reasoned investment.
The background of our consultants – banking, the public sector and accountancy – also gives us a rounded and balanced perspective of finance. That translates into the creation of innovative finance structures that are tailored to your project, whichever real estate class or sector it falls into.
Our clients are also diverse. We've helped investors, developers, funders and the public sector to get their projects off the ground. Those projects include the Brighton i360 tower and the Thamesmead Waterfront, complex, large-scale undertakings that we are successfully helping to see through to completion.
We're also actively driving the evolution of new real estate investment classes. Professionally managed Private Rented Sector schemes are an emerging, and exciting, area: Our specialists have been providing cutting edge structured finance solutions to deliver novel PRS schemes, and we formed Scotland's first build-to-rent venture – VOX.
That breadth of experience and expertise means we can find the right financial structure for your real estate project, whether it's a single property or a major development.
Infrastructure funding
The amount of international capital flowing into property is continuing to rise, as investors look for stable sources of long-term income to match their liabilities – and balance their portfolios.
But property development is often hampered by the upfront costs, and complexity, of infrastructure needed to catalyse a scheme. We provide first rate advice and practical assistance to investors looking for funding to realize an infrastructure project, on everything from water pipes to bridges.
Our expertise goes beyond conventional ideas of infrastructure, to new and dynamic areas of development. We can support you in getting forward funding of Private Rented Sector blocks – which can have a similar accelerator effect to 'traditional' infrastructure.
Other types of long-term income investments also need the right funding structures. With emerging asset classes like the Private Rented Sector firing investment, it's an exciting time for the market. Our advisers have the knowledge, financial nous and technical expertise to create a structure to perfectly match our clients' aspirations.
Fund management
When we established GVA Fund Management in 2007, our aim was to offer investors a combination of financial acumen and superior knowledge of the real estate market.
The funds under our management have grown substantially since then, but our objectives remain the same.
Working with the public sector, we're now able to offer fund management of pooled capital investing in real estate, through our financial consulting arm.
Joint ventures
Public and private partnerships are increasingly common, but require specialist knowledge and experience to be successfully concluded – and carried out.
We're acutely aware of the financial and political pressure that public bodies operate under, and the need for innovative, and often complex, commercial structures through which to realise their objectives.
We've advised local authorities around the country on forming successful partnerships with the private sector - helping them to crystalise social housing developments, urban regeneration schemes and a broad range of income generating projects. Our team are expert at creating structures which leverage public sector assets and resources, supporting local authorities in delivering much-needed services and social provisions.
We're at our clients' side throughout the process - from carrying out an initial options analysis and preparing a robust business case, through to finding them suitable development and investor partners.
A few of the higher-profile joint venture partnerships we've advised on:
Wirral Council Property Growth Company
Winstanley Estate, Wandsworth
Haringey Development Vehicle
Manydown Urban Extension, Basingstoke
Aden Cross
Paradise
Governance
Our Real Estate Finance consultants are engaged on a number of key strategic schemes across the country, many of which involve public-private collaboration.
Advising on governance issues is an important part of our service, and for good reason. The public and private sectors often work according to different sets of reporting and compliance requirements, which may cause unforeseen complications.
We can help to bridge that gap and to help both parties work effectively and efficiently – whilst maintaining clear compliance at all times. Our specialist advice includes:
Board structuring, including designation and resourcing
Project and company decision making processes and procedures
Performance reporting, through dashboard-style reports
Giving strategic financial advice to the Board (including financial monitoring and budget setting)
Providing monthly financial updates to the Board, and co-ordination of overall monthly Board pack submission
Providing strategic, outline and full business cases, in support of decision making processes.
Example of a reporting dashboard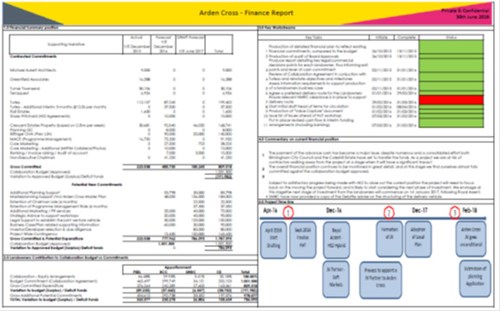 We've advised on governance issues on a number of high profile projects, including:
Wirral Council Property Growth Company
Paradise Limited Partnership
Arden Cross Ltd
Stratford Housing Delivery Company
Financial modelling
Getting an idea of future income from a development, or looking at the potential impact on your business of economic instabilities, can be crucial when drawing up a strategy – or making an investment decision.
Our financial modelling team has amassed an enormous amount of cross-sector experience, and has cemented our reputation for qualitative excellence. We structure our advice and output to every client's specific circumstances and needs. Those could be providing IRR's, or NPV's, or simply reporting portfolio statistics.
What sets our financial modelling service apart is that we advise, as well as calculate.
Our size means that we can come up with solutions to the issues we identify, drawing on a pool of experts in all areas of finance and real estate. That also translates into being able to pre-empt problems for our clients, rather than just fire-fight. We've harnessed the latest software to make sure that our predictions are as accurate as possible – and we augment them with our knowledge of VBA, C++ and SQL databases. In practice that means our clients are accessing some of the most sophisticated financial modelling tools on the market, fused with top-tier real estate advice.
Recent examples of completed work include:
DCF Valuation and Optimisation of Business Cases
Interactive Investment Analysis and Forecast Models
Scenario / Sensitivity Analysis
Activity Based Costing
Bespoke Reporting Solutions and Performance Analyses
Large Scale Portfolio Income Forecasting
Structured Finance
Programming and Automation