EPC compliance – how do the industrial, retail and office sector ratings stack up? - United Kingdom
EPC compliance – how do the industrial, retail and office sector ratings stack up?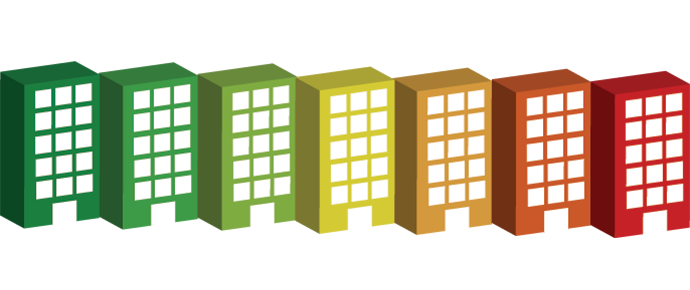 In April, new legislation comes into play which will require most commercially-let buildings to have a minimum EPC rating of an 'E'. What does this mean for the commercial property sector? In the short-term, it should not have a significant impact as most office, industrial and retail properties across England and Wales are already compliant – only 14% of stock is below this grade. However, further legislation is coming down the line. In 2030, all commercial buildings will need to achieve a minimum EPC rating of a 'B', which is much more significant for commercial landlords.
Through Avison Young's AVANT platform, we have calculated that 90.5% of properties in the office, industrial and retail sectors are not compliant with this future target. This means that a significant amount of investment is required from landlords to upgrade stock within the next seven years. Current 2030 compliance levels do not vary greatly between location or by asset type – although there are certain sub-sectors, such as retail parks and supermarkets, where at least 40% of stock on the government's EPC register for England & Wales already holds a minimum 'B' rating.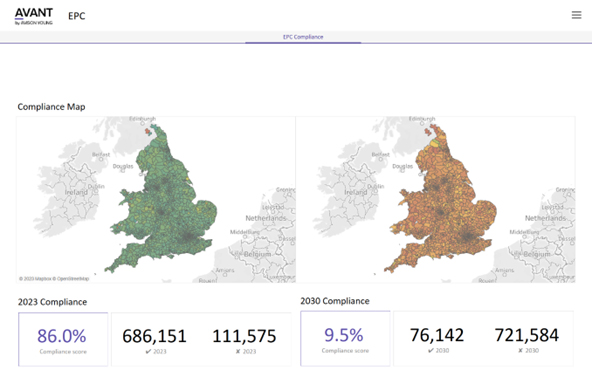 Industrial
Avison Young's Building Zero research report sought to understand the cost implications on landlords for upgrading existing industrial buildings to meet this incoming legislation. The results showed that it would cost around £30.5 billion to meet the required 2030 target.
To date, 10.8% of industrial stock is compliant with the 2030 target date. However, there is quite a wide variation between the best-performing region (the East Midlands with a 13.1% compliance level and the highest across all regions and sectors) and the worst-performing (Wales, where only 8.5% of the stock has a 'B' rating). There are a few reasons underlining this regional disparity. We would expect the East Midlands to be one of the better-performing regions, as it has seen the highest levels of take-up of big-box, grade A space due to its strategic location within the desirable 'golden triangle' and its availability of land, which has allowed industrial developers to build new industrial stock over the last few years.
Developers of industrial property are constantly innovating and trialling new initiatives to lower carbon emissions in what are typically very energy-intensive buildings. The use of solar panels and other energy-saving initiatives is not new, but we are starting to see more industrial developers progress on their paths to net zero. The world's first net zero carbon constructed building was an industrial asset, located at Magna Park in Milton Keynes, and we are seeing real innovation from global players such as Prologis. One of its parks in the Grand Sud region of Paris (Moissy 2) is the first logistics platform globally to be certified "Zero Carbon" from its construction phase through its use over the next 50 years. Lower carbon concrete was used for construction, with geothermal solutions used to heat and cool the building.
Retail
The retail sector has the highest compliance levels (10.9%), with the South East being the best performer regionally – 12.3% of retail properties have a minimum EPC 'B' rating compared to 9.8% in the North West, which is the worst performing region. But there are wide variations when assessing the different retail asset classes. For example, retail parks and supermarkets are often much newer buildings and have significantly higher compliance levels than shopping centres and high street shops, many of which have existed for decades and require significant upgrades to reach the minimum energy efficiency standards.
Decarbonisation in the sector is arguably one of the most difficult compared to other asset classes. Supermarkets emit high levels of carbon and consume huge amounts of energy due to their refrigeration and freezer systems. In addition, the sector faces additional packaging and food waste challenges, much of which are driven by consumer behaviour; therefore, retailers have a difficult but important role in influencing these behaviours. Retailers have been experimenting in-store over the last few years with initiatives such as refilling stations where consumers can purchase certain products using their own refillable containers to cut down on plastic waste and other initiatives such as chiller doors and solar panels to minimise energy consumption.
Office
Across the three property sectors, the office sector hast the most opportunity to improve, with an overall compliance level of just 8.4%, quite a bit lower than both the retail and industrial sectors. While no region has a compliance level of over 10%, the South West has the highest 2030 compliance level of 9.6%, with the worst performing region being the West Midlands, where only 6.8% of office stock has an EPC of at least a 'B'. Recent news indicates that sustainable buildings are becoming a very high priority for office occupiers. Great Portland Estates recently announced that when negotiating a letting with Clifford Chance in the City of London, rent was not the top focus – the biggest concern was the sustainability of the building. Sustainability is becoming a core focus for occupiers looking to meet their net zero carbon targets in the future, so landlords must ensure stock is as energy efficient as possible. Otherwise, they run the risk of struggling to find occupiers.
We are hearing of companies (for example, Dashwood Properties) looking to purchase old, dilapidated stock cheaply to refurbish and to improve energy efficiency so that they can be let and can command premium rents to rival new build stock. Refurbishing a building, rather than knocking down and demolishing it, can often result in lower embodied carbon emissions.
What's next?
There remains a long way to go for landlords to meet these future requirements. The cost of retrofitting will be significant, however, landlords will be heartened by the ability to command higher rents or sell buildings for an increased price due to them being of higher quality. Meanwhile, developers may take the opportunity to purchase non-compliant stock at a discounted rate as an investment opportunity. We anticipate that there will be steady improvement between now and 2030 as landlords upgrade their properties so they can still be leased, but also explore measures that go above and beyond requirements further down the line . We will continue to track the progress across the office, retail and industrial sectors on a quarterly basis to measure the increase in compliance levels.