Recyke Y'Bike Move on at Pace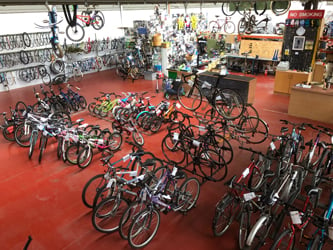 29 Aug 2019
Avison Young have once again assisted the cycling charity Recyke y' bike with their move to new, larger premises in Byker on the outskirts of Newcastle upon Tyne.
Neil Mandle, Director in the Building team at Avison Young's Newcastle office, originally as part of the Skillsbridge Creating Alliances initiative, advised the charity in 2013 in relation to the refurbishment of their former premises to accommodate the charity's then expansion objectives.
Recyke y'bike refurbish donated bikes and send around 80 bikes a month to partners in the Africa, to asylum seekers, children in nearby schools and disadvantaged communities in the North East.
Having outgrown their existing premises, Neil and colleagues from Avison Young, advised and negotiated lease terms for new premises on Brinkburn Street in Byker, including a building survey covering the condition and liability of the premises. The new facilities offer Recyke y'bike space for expansion and a long term home to continue their good work.
Richard Guy, Chartered Building Surveyor at Avison Young and a keen cyclist, who undertook the building inspections, was amazed by the transformation of the premises. He comments "It was fantastic to see a dated industrial unit converted into such a superb repairs facility and shop. It is a credit to all the staff and volunteers at Recyke y'bike".
Neil Mandle, Director, Avison Young, Newcastle comments. "It has been rewarding and enjoyable to work with SkillsBridge and Recyke y'bike. Both of the organisations provide such an important service to the local community. I am pleased to have been able to volunteer our professional services, involving building consultancy, lease consultancy and industrial agency colleagues".
Neil adds, "Avison Young (as did GVA) place corporate social responsibility high on their agenda towards putting something back into the local community".
Recyke y'Bike Chair of Trustees, John Litherland, adds. "The support we've enjoyed from Avison Young has been outstanding. The service our charity has received has been excellent. Quite simply their support has taken the strain out of the challenging process of securing new larger, fit-for-purpose premises in Newcastle."