Avison Young gives back to local communities in global Day of Giving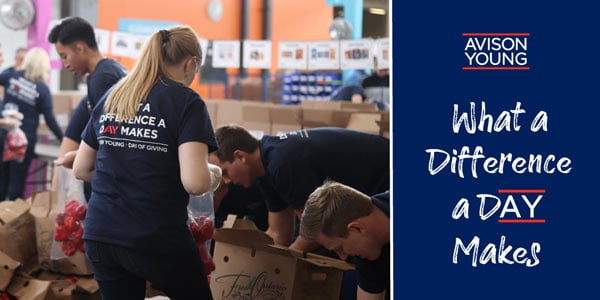 22 Oct 2019
16 UK offices will donate a day to charitable activities showcasing the positive impact of putting people first.
On 24th October, Avison Young's UK offices will participate in a full day of volunteering activities, which include assisting at local food banks, animal shelters and conservation societies. The initiative is part of the firm's sixth annual global Day of Giving. The day will see thousands of employees in approximately 100 Avison Young offices volunteering at more than 80 community organizations in Europe, Canada, the U.S., and Mexico.
This year, many new members of the Avison Young family will participate in the global Day of Giving for the first time. The increases stem from the acquisition of GVA in February 2019 and other acquisitions, new office openings and hires completed during the past year, making this the largest and most far-reaching global Day of Giving so far.
Jason Sibthorpe, Principal and President UK at Avison Young, said: "We will be proudly representing Avison Young in our local communities on this day, showing how our professionalism extends beyond our client work and back into the communities we help build. Supporting our local communities is not only important; it is a key pillar of our business strategy and part of our company culture. Led by members of our Emerging Leaders program, the Day of Giving allows all of us to feel the wellness, camaraderie and gratitude that result from giving back."
In the UK, Avison Young is involved in a host of Corporate Responsibility activities and partnerships, including:
A National Charity Committee which collaborates closely with community groups and charities, empowering our people to use their time and talent to address societal and development challenge
The Avison Young Employee Community Fund, launched in 2019, which supports local projects across the UK, from improving community buildings and outdoor spaces to buying new equipment, volunteering and hosting community events
A corporate partnership with the Woodland Trust, whereby every kg of CO2 from the energy used in our offices is mitigated by planting new trees, helping to provide homes for a variety of wildlife and places for recreation
Two ambitious graduate projects, which regenerated playground areas for Special Educational Needs (SEN) students at two schools. Both projects required Avison Young graduates to plan, design, fundraise and deliver from start to finish, working in partnership with the schools and supported by Groundwork charity.
Please visit our Corporate responsibility page to find out more about our UK Corporate Responsibility activities.