Q3 figures provide promising outlook for Central London market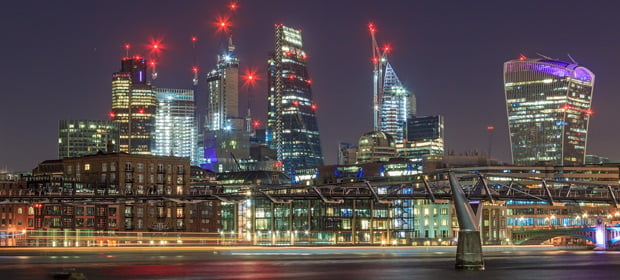 29 Oct 2019
Avison Young releases latest Central London Office Analysis report
According to Avison Young's latest quarterly Central London research, take-up was 29% up on the 10-year average, despite uncertainty during the run-up to Brexit.
Overall take-up totalled 3.3 million sq ft across City, West End and East London, driven by ongoing strong transactional activity for Grade A stock, showing high profile occupiers' continued commitment to London.
Serviced office take-up for Q3 accounted for the largest proportion of take-up by sector at 30% and increasing on Q2 2019 take-up to just over 1 million sq ft. WeWork was the largest acquirer of space with 11 acquisitions, including the operator's acquisition of EMA's 285,000 sq ft at 25 Churchill Place, E14. However, the recent halt on WeWork letting activity will more than likely see serviced office take-up slow for year-end.
Availability continues to be low, underpinned by strong pre-letting activity, with pre-lets accounting for 34% of overall take-up in Q3 2019. This environment of low availability is likely to continue, with 52% of the development pipeline due for delivery already let. The development pipeline is particularly constrained in the West End, where 71% of the 4.6 million sq ft pipeline is pre-let. Major pre-lets for Q3 included Bridgepoint at Marble Arch Place, W1 and Diageo at Turner House, W1 and BT Group at 1 Braham Street, E1.
Nick Rock, Principal, Central London Offices, said: "The Central London market continues to be characterised by constrained supply for the best quality space, particularly under-construction supply, which continues to see very strong levels of demand. As a result, tenants increasingly have to consider their future space requirements earlier or risk launching their search in a market starved of quality options."
Whilst investment activity picked up for Q3 2019 to £2.6 billion, investment volumes are still significantly behind where they were this time last year. The largest transaction of the quarter was Lazari's acquisition of 23 Savile Row, W1 for £277 million, representing 4.14% NIY. Overall, investor confidence remains on the cautious side, and reduced stock is driving lower transaction volumes.
Chris Gore, Principal, City Investment, said: "Despite a slowdown in investment volumes for 2019 to date, the market remains robust at both ends of the risk curve and strong occupational market fundamentals may boost investment volumes in the next quarter. Investor interest has stayed strong for prime stock and picked up in Q3 for opportunistic stock. As the year draws to an end total investment volumes could be boosted by the completion of a handful of large sales which are currently in the market or under offer, helping ensure London retains its position as a top location for investors."
You can download our latest copy of Central London Office Analysis here