Avison Young announces net zero carbon commitment in the UK by 2030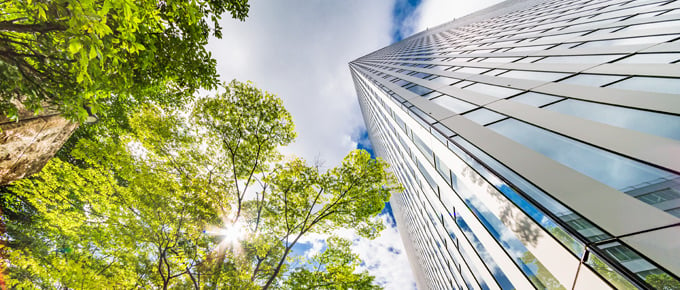 March 10, 2020
Strategic real estate advisor commits to net zero carbon in its UK workplaces within the next decade and pledges to inspire and lead the transition to net zero carbon buildings and communities.
In response to the global climate emergency, Avison Young will reduce carbon emissions to net zero in all its UK occupied buildings by 2030. The company has signed up to the World Green Building Council's (WGBC) Net Zero Carbon Buildings Commitment. Avison Young is in the process of developing and implementing a decarbonisation roadmap to net zero carbon outlining actions, to include:
Acquisition and fit out of new premises,
Retrofit and operational energy efficiency projects and;
Renewable energy strategies.
Jason Sibthorpe (President UK) "The climate crisis requires immediate action and Avison Young is committed to leading the way. We believe that the most successful companies realise profits are inextricably linked to social purpose. Taking action on climate change is a key part of this. Our UK business is at the forefront of this trend by making this commitment to transform our workplaces to net zero carbon, instilling carbon literacy throughout our workforce and helping our clients achieve their own net zero carbon ambitions for the benefit of our wider communities."
Jon Gibson, Head of Sustainability at Avison Young, said: "We are in a position to influence not only our own carbon impact, but also those of our clients and the communities beyond our buildings. We are committed to advocating for net zero carbon buildings whilst supporting our clients with clear roadmaps on how to achieve this. We are particularly focused on ensuring the transition to net zero carbon benefits all within society. We can fulfill this goal by educating and sharing our expertise with local communities and advocating for policies to ensure an accessible and fair transition."
Beyond the commitment to reduce its immediate carbon emissions through its own workplaces throughout the UK, Avison Young is educating its staff to become carbon literate, building the knowledge required to drive awareness and action through all of its services. Delivering net zero for clients calls on Avison Young's ability to collaborate across the property lifecycle. As an industry leader in sustainability for the built environment, Avison Young is already working on some major mandates with its clients across the public and private sector.