A reformed business rates system could play key role in powering a green industrial revolution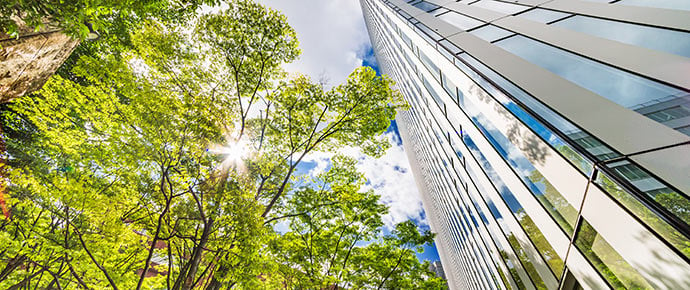 23 Nov 2020
Exempt green technologies and energy efficient investments from the business rates bill to help UK build back better, says new report by the CBI and Avison Young.
The Government's ambition to reduce carbon emissions to net-zero levels by 2050 is one of the country's biggest challenges. Last week, the Prime Minister laid out a ten-point plan to create a Green Industrial Revolution. A reformed business rates system could help accelerate progress.
Buildings make up around 40% of the UK's total carbon footprint, and investments to decarbonise properties must be a priority. The CBI and Avison Young latest report, Green light for investment, details how the current business rates system penalises firms for investing in their property through an immediate higher business rates bill. This means that too often making a property more energy efficient is discouraged as a result.
While a fundamental review of the business rates system is underway, the report recommends some concrete actions the Government can take now.
Delay any increase in firms' new bill for at least a year following works to decarbonise their property
Provide a further exemption to works that improve the property's energy efficiency, and
Exclude low carbon technologies from the system, such as solar panels and heat pumps.
Together they could help unleash a wave of green investment, support the country's economic recovery and help the UK reach net-zero sooner.
It's not only green investments the business rates system prevents; it's also a drag on business investment in the round. This comes at a time when the Covid-19 pandemic has already hit capital spending hard: business investment fell by a record 27% in the second quarter of this year, nearly three times as much as the largest drop seen in the 2008/9 financial crisis (-9.6% in Q1 2009), and a much larger hit than experienced by our G7 peers.
The CBI and Avison Young's recommendations for a modern-sustainable business rates system are as follows:
Introduce a similar measure to Scotland's Business Growth Accelerator Relief that enables improvements to existing properties to receive a minimum 12-month exemption from increased business rates payments to encourage investment in the existing property stock.
Exclude certain existing equipment, machinery and new technologies that directly link to the 'green' agenda (including solar photovoltaics and heat pumps) from the regulations.
Where property improvements result in an upgrade in the EPC rating, those buildings should benefit from an additional business rates exemption linked to the EPC improvement.
Review the plant and machinery regulations to ensure they are relevant for the 21st century, with a statutory commitment to keep this under regular review to ensure it keeps pace with a changing economy and advancements in technology.
David Jones, Principal and Managing Director, Business Rates at Avison Young, said:
"The UK economy faces significant challenges over the next few years as it manoeuvres the impacts of the Covid-19 pandemic, Brexit, and the pressing need to accelerate the drive to net-zero carbon emissions by 2050.
"To meet these challenges, we need an economy where business investment is positively encouraged by government policy. The current business rates system acts as a barrier, penalising businesses who want to invest and work in sustainable and energy efficient buildings.
"Our proposed reform measures seek to encourage good behaviour and help drive higher levels of green investment across the commercial property sector. A business rates reform must reflect the challenges of the 21st century and encourage businesses to invest in clean energy solutions and do their part in furthering the green agenda."
Rain Newton-Smith, CBI Chief Economist, said:
"The pandemic has drastically reduced business investment in the country – nearly three times as much as it did in the financial crisis. With companies already strapped for cash and investment, pressing go on their net-zero plans seems like an uphill struggle.
"The need for business rates reform is recognised across the board. A new system has the potential to power a UK green revolution and spur investment.
"The Government should start by applying a 12-month exemption from increased business rates bills for firms wanting to decarbonise their buildings or invest in green technologies, and a further temporary exemption linked to improvements in energy efficiency.
"The upcoming review is a key chance to create a modern, sustainable new system that keeps pace with a changing economy and new technologies. Unlocking widespread business investment can power a UK recovery, create thousands of green jobs and boost productivity post-pandemic."
You can view the full the full report from the CBI and Avison Young here.