Real estate news releases
Search our commercial real estate news and announcements.
Design and Build dominated but logistics market saw increased demand for speculative space in 2019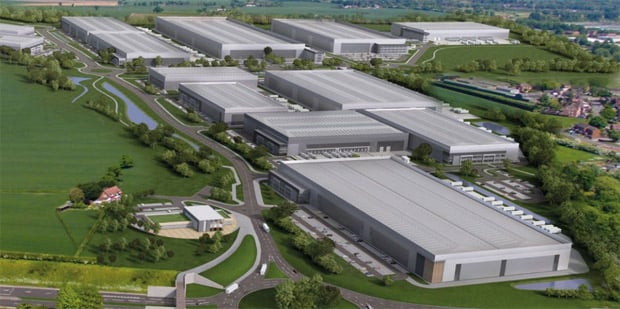 20 Feb 2020
Avison Young releases review of 2019 distribution activity.
While 2019 demand for major distribution units fell from the record levels seen in the previous year, there has been an encouraging increase in demand for new speculative units, in a market where design and build dominates. The second half of the year also brought a recovery in activity for sectors and some regions that underperformed during H1. Take-up of large grade A warehouses amounted to 11.8 million sq ft during the second half of 2019, which lifted the total figure for the year to 22.1 million sq ft, 5% below the five year average. In view of the political uncertainty throughout the year this was an encouraging level of activity.
The East Midlands has been the dominant region for the past two years and accounted for 7.4 million sq ft of activity in 2019. London, the South East and East had the next busiest year, with 6 million sq ft. Both these regions performed well above their respective five year averages and together accounted for almost two thirds of total activity. In the next tier of activity there was around 3 million sq ft of take-up in the West Midlands, and a similar level in Yorkshire & North East.
There was activity across a broad range of sectors during 2019; however non-food retail (35%), third party logistics (26%) and the manufacturing sector (23%) dominated. The manufacturing sector accounted for the largest deal during the second half of the year, almost a million sq ft to JLR in Solihull, which is a welcome return for automotive activity.
Continuing the trend of the past few years, design and build take-up has accounted for more than 50% of activity and nine of the largest ten transactions in 2019. It is encouraging that speculative take-up accounted for more than 5 million sq ft, its highest level since 2016 and reflective of the higher level of recent speculative completions.
Supply levels have increased to 31.3 million sq ft, up from 29.5 million sq ft in June, attributable mainly to an increase in existing stock. While the overall level of speculative supply has remained steady, the amount under construction has fallen 20% to 5.6 million sq ft, reflecting a fall in the number of starts throughout 2019. Despite an increase in supply, overall levels are still constrained. While there is some regional variation, all regions have between one to two years' supply.
Robert Rae, Principal and Managing Director, said:
"Now there is a clearer political outlook, we are seeing greater business confidence, a release in pent-up demand and more transactional activity. We expect this to continue, certainly for the first half of 2020. A number of companies will bring forward their property plans which we expect to be reflected in healthy take-up figures."
The total volume of investment for distribution warehouses across the UK amounted to £2 billion during H2 2019, which is a significant improvement on the first half of the year. This brings the total for the year to £3.22 billion, just 1% down on the five-year average. Key to activity were investments between £30 and £90 million, which included Gazeley's purchase of three buildings at Panattoni Park in Northampton for £87 million.
As expected London, the South East and East accounted for the largest investment volumes during the year at £988 million followed by the East Midlands (£759 million) and Yorkshire & North East (£439 million). Many of the larger transactions were to overseas investors, who accounted for 45% of all volumes, above the five year average of 39%.
Peter Keir, Principal, Investment, said:
"We expect strong investor demand for prime, well-let assets to continue, as the greatest impact on pricing has been on the riskier product. With increased political certainty we expect to see a bounce back in the first half of 2020 and increased activity from investors. The pound is likely to remain relatively suppressed; therefore we expect interest to continue from overseas buyers. There is also a large weight of money that will drive institutional investors to return to the market."
The forecasted 1.1% GDP growth in 2020 is unlikely to change materially, yet a short term boost to economic activity can be expected, which in turn drives improved sentiment and transactional activity. But with the focus shifting to debate over the U.K.'s future trading arrangements with the EU, considerable uncertainty still remains.
Deals in the pipeline in the distribution sector indicate a robust level of activity for 2020. The strong growth in e-commerce and requirement for last mile delivery has generally insulated the sector from political and economic headwinds that have affected other sectors. With demand levels remaining robust, the increase in supply coming to the market will likely be absorbed and there remains a strong appetite from developers and funds for speculative development to meet requirements.
You can view our latest Big box bulletin here.