Real estate news releases
Search our commercial real estate news and announcements.
Ferguson Marine commits to expansion at Greenock site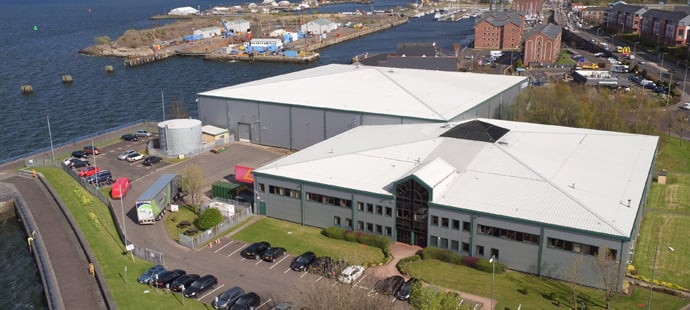 11 Mar 2020
Ferguson Marine (Port Glasgow) is pleased to announce it has entered into a 4-year lease at one of the largest commercial properties in Greenock. This will provide the company with over 77,000 sq. ft of industrial and manufacturing space.
The warehouse, located at 2 Cartsdyke Avenue, will be used to consolidate inventory held in several warehouses near Glasgow Airport and to implement upgraded stock control processes. Work has already started to transfer stock between the two locations and two additional employees have been recruited to operate the new warehouse, which will become the delivery point for most of the equipment ordered by the yard.
The letting is one of the biggest industrial site deals in Scotland this year and was facilitated by Avison Young who acted on behalf of Ferguson Marine and joint-agents Colliers, Bowman Rebecchi and Breck Sutherland who acted on behalf of the landlord, Dalglen Investments.
Tim Hair, Turnaround Director at Ferguson Marine said, "This is an important milestone for Ferguson and is the first physical change in the recovery of the business. Inside the yard, improvements to the way the business operates are underway and I look forward to moving from reworking the ferries to doing new work, as planned, in the summer. Ferguson remains committed to the area and we are glad to have the opportunity to bring our stock close to the shipyard and back into Inverclyde.
Pete Harding, Associate Director, Avison Young, said: "With a considerable shortage of quality stock across Scotland, securing this quality, landmark site is a fantastic result for our client, Ferguson Marine, and will help put them in a strong position for ongoing growth. The upgraded warehouse and manufacturing facility will support their business operations by providing them with extensive industrial space and one which is in close proximity to their Port Glasgow headquarters."
Dalglen Investment directors, Sandy and James Easdale said, "This is a huge boost for the local economy and further repays the faith shown in acquiring the site and the further investment since committed.
"We believe this is an opportunity to further support the growth of the yard and ensure further jobs both directly and indirectly via Ferguson's supply chain. This is just one of the investments that Dalglen has made over the past few years in Inverclyde, and we believe it provides a fantastic opportunity for businesses to grow."
Colin McManus, Associate Director, Colliers, said: "This is the largest industrial property letting in Inverclyde for 16 years and represents a significant reduction in the total availability of space in the area. This mirrors the trend across the Central Belt of Scotland as industrial property continues to perform strongly".