Real estate news releases
Search our commercial real estate news and announcements.
Avison Young's latest Big Nine office report suggests regional markets well-placed to weather the storm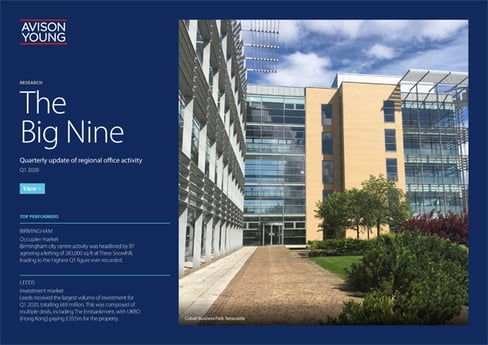 27 Apr 2020
Analysis of regional office activity in Q1 2020 reflects strong markets pre-COVID-19.
Total take-up across the Big Nine office markets (Birmingham, Bristol, Cardiff, Edinburgh, Glasgow, Leeds, Liverpool, Manchester and Newcastle) amounted to 1.96 million sq ft in Q1 2020, 8% below the quarterly average.
Several large deals were agreed in Q1, headlined by BT's 283,000 sq ft letting at Three Snowhill in Birmingham and supported by 90,500 sq ft to the Scottish Government in Glasgow and 74,000 sq ft to Osborne Clarke in Bristol. However, the overall number of transactions was down on average by 20%, with activity skewed towards the larger deals, and activity unsurprisingly slowing towards the end of the quarter.
Nevertheless, the strong fundamentals in many of the markets will likely provide an element of resilience during the current pandemic. Vacancy rates are low and half of the current stock under construction is pre-let. Prime rents increased across four of the Big Nine cities during Q1, leading to a record average rent to £31.61psf, up 4% on a year ago.
There was a broad mix of sectoral activity, particularly from the TMT sector, professional & financial services, manufacturing & industry and public services. However, following a significant increase in activity over the past three years, co-working firms were less present in the first quarter, and have been quick in pulling out of deals since COVID-19. How the flexible office sector rebounds is still uncertain, as current working from home arrangements have accelerated a trend of increasingly agile working for a great number of businesses. Although office footprints could decrease as a result, it will also push landlords, developers and occupiers alike to rethink the importance of the space they occupy.
Whilst Q1 activity was indicative of strong positive sentiment at the beginning of the year, activity is expected to be significantly down over the next months. The lockdown is not only creating uncertainty around pricing and occupational requirements but significant practical difficulties. Viewings and due diligence cannot be carried out and material for construction sites and fit outs will be delayed. However, several deals are progressing regardless, including large pre-let deals, while others are taking a 'wait and see' approach.
Charles Toogood, Principal and Managing Director, National Offices, said:
"At the beginning of 2020, the Big Nine regional office markets were very well placed, with low vacancy, a number of large requirements and significant pent-up demand. There is more sectoral diversity in the regional markets than there has ever been, and this has been further enhanced by inward investment through companies from the South East looking to mitigate costs and the GPA Hub programme. With vacancy levels at their lowest in fifteen years, the regional markets should be well placed to weather the storm."
Unlike the occupier market, investment volumes for Q1 reflect a sharp slowdown in activity. The first quarter of 2020 saw just £226 million transact across the Big Nine cities, similar to the level of activity during Q1 2019, but well below the quarterly average of £561 million. Leeds received the largest volume of investment for the quarter, totaling £69 million. Liverpool attracted the second largest investment volume, achieving £40m solely from the sale of 20 Chapel Street to Square Ape Ltd - the largest transaction of the quarter, followed by a £26.3m sale of Cobalt 25 in Newcastle to LCN Capital Partners.
Since lockdown, the overriding theme is of a pause in the market. Most deals have slowed as investors and vendors alike take a view of the 'new normal'. We saw a number of deals exchange or complete in March and believe that there has been limited movement on pricing on those deals. However, there have been examples of investors, including funds, pausing completely and there is inevitably little new investment stock coming to the open market.
Although all investors are more cautious there is evidence of increased interest from overseas buyers attracted by long-lease properties, made more attractive by the weaker pound relative to other currencies. Overseas investors contributed just below 45% of the total investment volume for Q1 2020, which included the two largest deals of the quarter.
Mark Williams, Principal and Managing Director, Regional Investment, said:
"In times of uncertainty the most likely sales to be proceeding or going under offer are long income deals with the best covenants. However, due to volatility in bond rates, economic stress and in some cases short term loss of income, there is evidence of movement on pricing even in this market. This was especially true at the start of the lock down when pricing on corporate covenants moved out significantly, however, by the end of the quarter pricing regained some ground.
The consensus view is that the industry will not be making significant value adjustment at the March quarter date due to lack of information, with the uncertainty clause in valuations being a clear and obvious example."
To read the latest report, please click here.