Real estate news releases
Search our commercial real estate news and announcements.
Avison Young instructed to sell Hadrian Yard, North Tyneside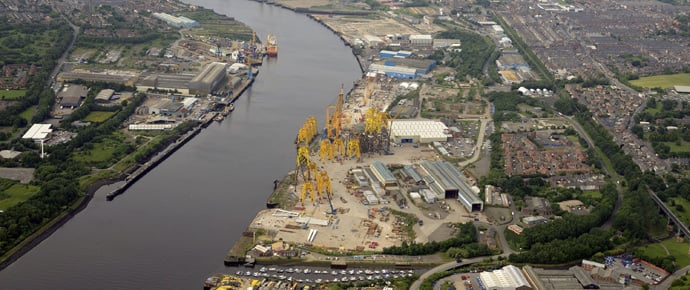 28 May 2020
Avison Young has been instructed to sell the Hadrian Yard, North Tyneside by HHIL.
The Hadrian Yard offers a rare opportunity to purchase a strategic industrial investment extending to 30ha (75 acres) on the North Bank of the River Tyne.
The site consists of 42,840 sq. m (461,128sq.ft.) of high quality industrial, warehouse and office accommodation with site coverage of 14.15%.
The site has unique facilities including 1km of waterfront, a 10ha (25 acre) reinforced concrete assembly pad and a yard power capacity of 5000 KVA through 10 substations.
The property is currently used as a manufacturing and assembly yard for jacket foundations for use in offshore wind turbines, a growing alternative energy sector. The site is one of a very limited number of yards capable of handling this type and volume of work in the UK, as well as elsewhere in Europe. In particular it is able to meet the larger construction requirements which are needed under new tenders. The yard has previously been used for the offshore oil and gas industry.
The site is exceptionally well-placed to benefit from developments in the North Sea, within easy reach of key offshore energy locations such as Dogger Bank, Hornsea and other North Sea developments, as well as oil and gas related uses, large scale manufacturing, storage and distribution uses and advanced manufacturing. Alternative potential uses could include industrial or commercial storage.
The North East has been chosen as one of 4 regions that will form part of a new Offshore Wind Growth Partnership, following the announcement of a £250m bespoke agreement between government and industry. The following articles explain the importance of offshore wind and the growth expected in this sector.
The property is let to Smulders Projects UK Ltd on a FRI lease (subject to a schedule of condition and a guarantee by Smulders Group NV) who have recently renewed their lease for a further 2 years, contracted out from 7 January 2019 at a passing rent of £1,500,000 per annum.
With slowing and delays in the nuclear power station development programme and the greater emphasis placed by government on alternative sources of energy, including the construction of offshore wind farms, Port of Tyne is well placed to secure further activity within this key sector.
Avison Young is instructed to sell the Freehold interest and are seeking offers in the region of £15M (Fifteen Million Pounds), subject to contract and exclusive of VAT."