Real estate news releases
Search our commercial real estate news and announcements.
Avison Young completes Theatre Royal Drury Lane restoration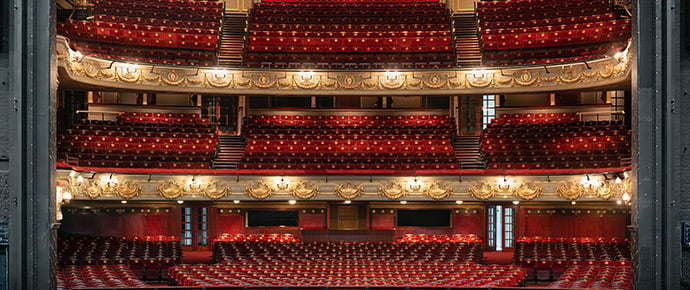 September 24, 2021
One of the oldest theatre sites in continuous use in the world.
Avison Young, working as project manager alongside the client LW Theatres, architect Haworth Tompkins, and a wider project team, has completed the £60 million restoration of the Grade I listed Theatre Royal Drury Lane, affectionately known as The Lane, one of the oldest theatre sites in continuous use in the world.
The world-class theatrical and performance space has been entirely restored with the addition of exciting new food and drink spaces which will make this an entertainment and cultural destination alive throughout the day.
Including the magnificent 1812 Greek Revival 'front of house' designed by Benjamin Wyatt, a major technical renewal of the stagehouse, greatly increased restroom provision and a full refurbishment of the dressing rooms.
A crucial element was the refashioning of the auditorium, bringing the audience into a more direct relationship with the stage, aspiring to the legendary intimacy of LW Theatre's other venue of similar capacity, the London Palladium. The new setup allows for the theatre to be arranged in unconventional formats for specific productions.
Theatre Royal Drury Lane, located in the heart of Covent Garden, will continue to showcase world class theatre and front of house facilities that are open to the public all day, for those coming to a show and those not. From casual and contemporary, to formal and theatrical, each of The Lane's spaces has its own charm: the spacious and regal Grand Saloon; the relaxing, all-day dining area The Garden, serving cocktails, coffee, and light bites; a cocktail bar, inspired and named after high society photographer and theatre costume designer Cecil Beaton and finally, the Rotunda Bar where champagne will flow and elegant Georgian architecture shines.
Avison Young provided project management and consultant team leadership, including procurement advice which led to the selection of a construction management contract method. This enabled LW Theatres to have close involvement in the appointment and management of larger and in particular multiple smaller heritage specialist contractors vital to sensitive modernisation, heritage conservation and ESG improvements.
The theatre was made more environmentally sustainable by improving efficiency of heating and cooling systems and installing LED light sources and energy efficient lighting controls. Safety and health of staff and visitors has been improved by the replacement of lead pipework and the installation of fire and security systems which also mitigate risk to this heritage building.
Mike Cook, Project Manager at Avison Young, said:
"It has been a great pleasure to work over the last six years as project manager leading the consultant team on the refurbishment of the fourth theatre on the site Benjamin Dean Wyatt's Grade I listed masterpiece. This was an all-round great commitment by the consultant team and 71 specialist trade contractors putting in 75,000 operative days over the two years' site works period.
The pandemic has presented serious challenges to the performing arts sector, but there is no doubt that culture-led regeneration will play an increasingly important role in the years ahead and destination venues like the Theatre Royal Drury Lane will be integral to attracting visitors and tourists back to the West End."
Dan Watkins, Project Director at the Theatre Royal, said:
"The refurbishment marks a new era for the Theatre Royal Drury Lane, preserving its iconic Georgian interiors, securing its technical capability and creating an exciting new destination - ensuring its place among the world's greatest theatres. Avison Young provided expert advice at every turn, helping us to navigate this complex refurbishment project. A more complex set of challenges are tricky to imagine but the team rose to them each time."
Project director at Haworth Tompkins, Steve Tompkins said:
"It's hard for us to imagine a more complex or more delicate theatre restoration that this one. Drury Lane is the history of British theatre in one building and much of our task has been to protect and restore its astonishing original qualities. But it is also a public venue operating into the 21st century, and so an equally important task for LW Theatres and the design team has been to make sure the theatre as a whole continues to thrive in a world that is culturally, technically and commercially transformed. We're thrilled to have played a part in bringing this truly wonderful old building back to full health for many years to come."