£400million Golden Valley development will help drive economic recovery post Covid-19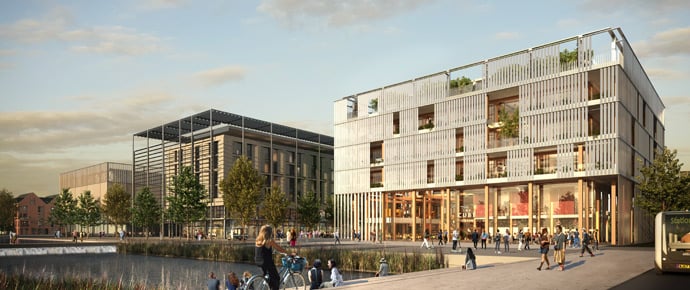 28 Jul 2020
Six shortlisted in the search for development partner.
The opportunity to help accelerate economic recovery is a major driver in the vision for Cheltenham Borough Council's £400million Golden Valley Development. And with the search for a development partner launched during the Covid-19 Lockdown, the vision has clearly resonated within the industry, with an extensive number of strong expressions of interest received and invitations to a shortlist of six bidders now made.
Avison Young is leading the delivery partner search for the Golden Valley Development, which was originally planned to be unveiled at MIPIM 2020.
This UK flagship scheme delivering a world-class mixed-use development will be located on a 200 ha site adjacent to GCHQ in Cheltenham and will feature Cyber Central, the UK's first campus focused around the rapidly growing cyber-tech sector. It will also provide over 3,000 homes in a Garden Community.
Building a sustainable community for work, rest and play is at the heart of the Golden Valley Development and will be crucial to the successful public/private sector partnership that will be finalised in Spring 2021.
"The blueprint for Golden Valley gives potential partners the perfect opportunity to think about what communities of the future must look like, given our experiences of living and working through Covid-19," says Gordon Isgrove, Principal at Avison Young. "Our vision for Golden Valley is to be one of the world's best places to work, rest and play.
"Cyber Central, with Cheltenham's international reputation for leadership in the cyber tech sector, will help drive forward the UK's economic recovery, supporting its mission to be a leading global cyber nation." Golden Valley is supported by the Department of International Trade as a project of international significance.
"We've seen a high level of interest in the delivery opportunity at Golden Valley. With sustainability, wellbeing and employment at the heart of this vision, it is a proposition that truly reflects how we shape resilient communities of the future," continues Gordon. "Launching the developer search during Lockdown of course came with an element of the unknown, but we've been encouraged by the number of strong parties who have come forward."
Cheltenham has the UK's highest concentration of cyber–tech business outside London. At the heart of Cyber Central will be the Cyber Central Innovation Centre, bringing together GCHQ's innovation programmes, academia, business and event space, offering up to 2 million sq ft of commercial floor space available for the industry to grow around this honey pot.
The Golden Valley Garden Community will be an integrated sustainable development creating a thriving community, supported with shops, cafes, restaurants, and leisure facilities. It will include a wide range of innovative housing solutions, striving to achieve new standards in design.
Cheltenham Borough Council has demonstrated its long-term commitment to the development with the acquisition of 45 ha of allocated greenfield land. This investment of £37.5million is the biggest single purchase ever made by the Council. It has a further £180m funding available for the delivery of high-quality homes.
The selection process is being undertaken in accordance with European Union Legislation. All parties who submitted a Selection Questionnaire have been notified if they have been shortlisted and invited to enter dialogue and submit outline solutions.
It is intended that a partner will be appointed in Spring 2021.
More information can be found at goldenvalleyuk.com