Avison Young appointed to support Northampton town centre's COVID-19 recovery strategy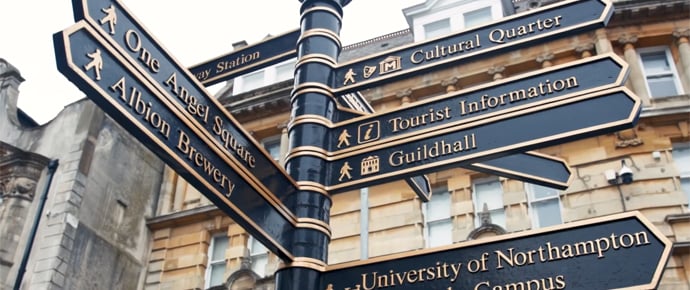 23 Sep 2020
Supported by strategic real estate advisor Avison Young, Northampton's independent businesses have come together to encourage residents to rediscover their local town centre – whilst remaining vigilant to social distancing and protecting others.
Avison Young was appointed to help shape Northampton town centre's COVID recovery strategy, utilising the ERDF Reopening High Streets Safely Fund, providing enhanced communications support and regeneration advice allied to Northampton's wider masterplan.
As part of Northampton Borough Council's digital "Love Northampton" campaign to reinvigorate the town centre, Avison Young has helped produce a video, which was released this week and showcases a snapshot of the town's most popular attractions and hidden gems encouraging residents to rediscover the town safely.
From fresh local produce in the Market Square, to family businesses on Abington Street, visitors are encouraged to rediscover Northampton's best kept secrets. The video includes major attractions such as 78 Derngate, which has reopened to the public for pre-booked tours, as well as local restaurants and shops, many of which have been trading in Northampton for decades.
Lydia Ellis, Head of Destination Marketing, Real Estate Management at Avison Young, said:
"Communications play an incredibly important role in keeping visitors and wider stakeholders informed and engaged with town centres across the nation.
A tailored, sensitive approach can help promote safe enlivenment strategies to support independent businesses, while ensuring important updates like revised regulations can be communicated efficiently to various audiences.
Finding creative ways to responsibly promote our town centres will help ensure their relevance and appeal in the future."
Leader of the council, Councillor Jonathan Nunn, comments:
"The last few months have been extremely challenging for all of us. However, it is vital we responsibly support our high street and ensure our town centre survives this difficult time.
If you haven't been to Northampton for a while, I would urge you to do as the video suggests and come and rediscover our town. We have a great mix of both historic attractions, specialist independent retailers and great services. We look forward to welcoming people back."
Avison Young has been closely involved in the process of re-opening town centres on behalf of both public and private sector clients, as well as shaping longer term decision making around the restructuring and reimagination of the nation's high streets to create inclusive, accessible and sustainable spaces for all.
For more information, visit: avisonyoung.co.uk/urbanfutures