London Legacy Development Corporation seeks new JV partner to deliver 1,200 homes on Queen Elizabeth Olympic Park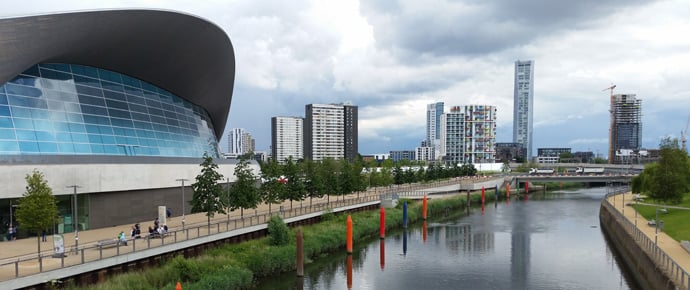 2 Oct 2020
Avison Young has been commissioned by London Legacy Development Corporation (LLDC) to advise on the selection of a development partner for the £600m project.
The project will deliver two new neighbourhoods in the south of the Park at Stratford Waterfront, next to the East Bank culture and education powerhouse, and at Bridgewater Triangle, close to UCL's new campus at UCL East.
The selected developer will share LLDC's vision and values to deliver the most successful legacy of any modern Olympic Games. Alongside world-class sporting venues, international cultural bodies and universities, the new neighbourhoods will meet the high design standards already in place at Chobham Manor, East Wick and Sweetwater.
The Stratford Waterfront site is outstanding, with its 1.6-acres located in a prime position at the heart of the Park. It sits next to the new East Bank culture and education district and its immediate neighbours will be new outposts for the V&A, Sadler's Wells, the BBC and UAL's London College of Fashion, which are all under construction.
The Stratford Waterfront residential development, which benefits from outline planning consent, will comprise up to 600 homes, including private amenity spaces and ancillary uses; up to 2,200 sqm of retail and food and drink uses; new public realm and landscaping and other supporting infrastructure works. It will complete the existing masterplan for the area and will become one of Europe's most extraordinary neighbourhood locations.
The vision for Bridgewater is to create a multi-generational and family-oriented environment within a river setting. It has a focus on new urban typologies, including larger 3+ bed homes, that are linked with generous streets, courtyards and green space; aspects that are increasingly sought-after features since lockdown. Bridgewater aims to set high standards for urban living in the future – both in terms of the design of the proposed landscape and its homes.
The 5.9-acre site sits close to Pudding Mill DLR station and is bounded by the Waterworks River to the east and the Greenway to the west. A network of pedestrian routes ties the neighbourhood to the Park and its facilities, including London Stadium, the London Aquatics Centre and the ArcelorMittal Orbit, as well as to the new UCL East campus and the culture and education district at Stratford Waterfront.
Rosanna Lawes, Executive Director of Development at LLDC, said:
"We are in a challenging economic world and our approach to this development will be different to our previous neighbourhoods on the Park.
"We are not risk averse and we are keen to work alongside the market in a Joint Venture to promote this development at pace with a partner who shares our vision to establish a new and exemplary metropolitan centre.
"This is an amazing place that has already delivered so much but there are still many more opportunities for investment, and we are seeking the very best partner to help us build the legacy."
Kim Grieveson, Director of Development Consultancy at Avison Young, said:
"The project presents a rare opportunity for an experienced development partner to deliver two exceptional residential schemes in partnership with the LLDC to realise their vision for the area.
Avison Young has advised LLDC on a variety of projects on the Olympic Park over the last two years, but this is very much the 'jewel in the crown' of the legacy Olympic sites to come forward.
We have extensive experience in advising on the requirements of successful public-private partnerships, and it is never the case of one size fits all. We are committed to selecting a partner who shares LLDC's unique ethos on sustainable and responsible placemaking to create lasting value."
Further details of the scheme and timetable will be made available at an online launch event at 14 October 2020.
Interested parties can register at www.buildthelegacy.co.uk.
Following the launch, parties will be asked to complete and return a Selection Questionnaire to demonstrate their ability, expertise and resources. LLDC anticipates an appointment being made during Q2 2021.