Retailer big shed and internet fulfilment is driving industrial growth in the South West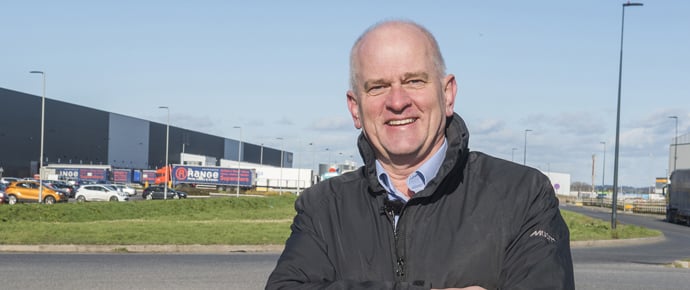 March 18, 2020
As Severnside takes its place as a distribution hub of national significance, the logistics market is continuing to reshape the greater Bristol region. Distribution and logistics companies are increasingly turning to Severnside for their south west distribution facilities, taking advantage of the motorway network now supported by the new M49 junction on their doorstep.
The Range, Lidl and Amazon have recognised the importance of available land at Central Park, with its direct access to the M49. The Central Park scheme has been at the heart of over 250 acres of deals with its unique planning regime and enterprise area status. The project has generated over £6.5million per annum in additional business rates since 2011 with potential to double in size.
Delta Properties, developers of Central Park, released a further 50 acres in 2019, and its fifth land sale has just been announced, to B&A Group, acquiring 6.5 acres.
Strong demand, national market conditions in the sector and perception of value growth in the region, mean significant international funding streams are available to our regional market as a favoured asset class, fuelling this important market.
This is evident in one of the largest commercial land deals in the UK over the last twelve months at Western Approach earlier in the year, when Walters Land acquired a 113 acre industrial site from Scottish Power. The new scheme, Severnbanks, will be capable of accommodating up to 2 million sq ft of new space but is primarily available to let as open storage for the wide range of low density users who serve the regional industrials. Avison Young and Alder King will be marketing the site with plots from 5 to 50 acres, presenting further, huge opportunities to distribution and logistics companies looking to create their South West distribution hub.
The continued growth of e-commerce, and the requirement for last mile deliveries, is at the heart of this growth. So despite a rather subdued market in 2019, we're expecting a wave of deals throughout 2020 and 2021, with a number of potentially large enquiries from ecommerce and food retailers.
The 2019 industrial space annual take up stood at just 1.47m sq ft (IAS), only 32% of the 2016 peak at 4.53 million sq ft. In addition to the built space take-up, 169 acres was sold to occupiers and developers to build new stock and over 1.1million sq ft of new stock has either been built for letting or is within speculative projects commencing on site this year. What we were missing in 2019 were the mega shed deals of previous years such as Amazon and The Range, each building over 1million sq ft in single facilities.
But recently, Ocado acquired a new 150,000 sq ft unit in Avonmouth for internet fulfilment to support their relationship with M & S. The centre will support circa 815 jobs and process 30,000 home deliveries in due course, and it will be its first mini-robotic warehouse.
Logistics is the darling of the property investment market - investors have been keen to capitalise on rental growth in all sectors of the industrial market in Bristol, as a result, prime industrial yields have held steady during 2019 at 4.75%. Total returns for Bristol industrial in 2019 were still an impressive 7%.
However, logistics is currently a labour-intensive business, and the sector is facing twin challenges of staff shortages and a growing volume of e-commerce returns and profitability.
Current concerns surrounding the costs and availability of labour are likely to become more acute this year as the UK's immigration policies change ahead of Brexit. So we're beginning to see occupiers, such as Ocado, increasingly improving operational efficiency through at least partial automation. This is consequently influencing the specifications and dimensions of new developments.
The logistics market continues to reshape the region and Severnside is at its heart.