Let's talk about flex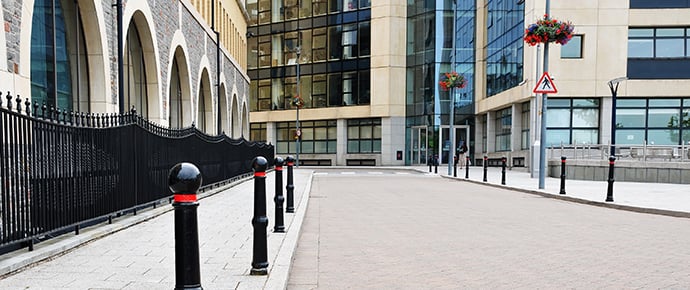 January 7, 2021
At the beginning of the year, we had 40 million people across England living under Tier 4 restrictions and have now entered another lockdown. The implications of this for businesses from all sectors bring many different problems - work space needs are undoubtedly one of them. We cannot forget that commercial property in its rawest form is simply a vehicle for a business to fulfil its core function, keep its people safe and engaged and to support revenues and growth. Real estate strategies should reflect and inform a wider business plan positively rather than be a drain on resources or funds that can be used better elsewhere. Uncertainty clearly makes this alignment hard, as critical lease dates require decision-making that has a long-term impact, when there currently isn't a sufficient level of knowledge about the future to make those decisions in an informed manner.
As businesses look at reducing costs and achieving a greater level of agility, the ability to draw down their real estate needs as and when required rather than on a fixed basis is clearly appealing. This is especially the case as businesses consider options spanning office-based working, satellite offices or working from home, so actual requirements are fluid. Pausing and taking time to reflect and assess long-term strategy whilst still being operational in a safe 'plug and play' environment is something that makes a lot of sense. Covid-19 will be a seminal moment in office occupation as companies of all sizes consider what the new working world looks like and what approach they need to take to react in the medium to long-term. There is no blueprint to work from as each business's needs and requirements are very different, but as many have managed the uncertainty of the pandemic using flexible workspace, it has transcended the realm of the SME to become a mainstream occupational solution. Considering a flex strategy against or complimentary to conventional leasing is therefore shrewd to say the least.
A managed or 'enterprise' workspace solution is now coming to the fore for larger employers who may not have previously considered flex space, slowly providing an alternative to the co-working offer that has dominated the sector in recent years. Wrapping up rent, rates, service charge, facilities management, dilapidations and technology costs into a single regular payment, whilst allowing efficient accounting for capital expenditure on fit-out and the inevitable depreciation, is a model that plays to a post-Covid audience who are left wondering why they are locked into long-term lease agreements with costs that are difficult to track.
However, the seemingly utopian world of flexible workspace is more difficult to navigate than it may first appear, as that flexibility comes at a premium and the array of operators and models is vast. The spectrum is reflective of many markets, from established global brands, to boutique independents and pretty much everything in between. Finding an operator whose approach and personality reflects that of your business is key. This sounds glib but the reality is that like most things in life approaches are very different and occupiers will need to understand the layout of the arena and the players within it. Agreement terms and clarity on cost have their pitfalls, as comparison and cash flow modelling is very different to conventional leasing where core financial elements can be distilled to a 'per square foot' price. Different operators hold different models, which offer core pricing along with a side menu providing an array of additional services that are charged on top. Pricing can be fluid due to competition following unprecedented sector growth and based on availability levels at any given time, therefore shopping around can see value achieved for businesses of all sizes.
At Avison Young we have a deep understanding of the sector, all the operators within it and the right approach to putting together a flexible solution that best reflects business plans in the short, medium and long-term, whether as a one-off or as portfolio solution. Our nationwide team of workspace specialists ensure our client's position is protected and that not only best value is achieved but moreover that the chosen working environment reflects the personality of their business, engages existing talent, assists in attracting new talent and underpins revenues and growth. We can benchmark the benefits of a flexible approach against the whole life costs of conventional leasing and provide detailed cash flow analysis delivering clarity to the vagaries of any hidden costs. We do this work on a daily basis for a variety of businesses and successfully provide an occupational solution that works for them rather than being a burden.
As we all wrestle with future working practices and the resulting impact on real estate strategies in the short, medium and long-term, assessing whether introducing flexibility makes business sense. Doing so with the right advice wrapped around that assessment is critical to ensure that it delivers value and effectively and efficiently does what is needed.
For more information on Cost Containment and how Avison Young is able to help your business, please visit our dedicated hub.