London's return to the office – the move to hybrid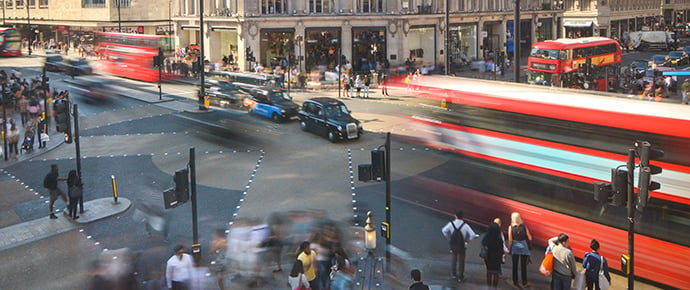 November 2, 2021
Data on mass transit use shows that a steady drift back to work has been underway for some months now in office districts in London, which gained momentum during September and October. This is the second time that in the aftermath of the lifting of restrictions there has been a marked recovery in commuting activity into London office districts – the same occurred between June and November 2020. This demonstrates a determination among firms to get staff back into offices, which gives us the confidence to predict that if there were another lockdown this winter, it would still be followed by a sizeable return to the office.
We believe this Autumn is seeing a significant enough number of staff regularly working in the office to allow firms to assess whether hybrid working is suited to their organisations. Then occupiers will be in a position to adjust their property strategies accordingly.
However, we believe that a range of factors, from more firms adding collaborative areas, to staff seeking promotion and bonuses, will keep the amount of space that becomes surplus to a manageable level.
The Return to work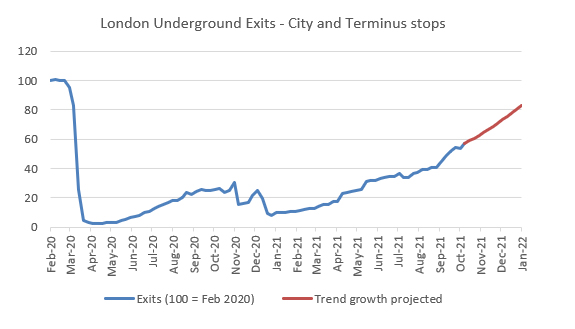 Source: Transport for London
We analysed data on passengers exiting London Underground train stations in the City of London and the capital's mainline railway terminals. This we believe provides a good proxy for commuter travel into the capital's central business district, by excluding those West End stations that have high volumes of retail and leisure passengers.
The Underground data shows that passenger traffic in the sample of stations, having dropped to 3% of pre-Covid levels in mid-April 2020, had reach 57% in mid-October 2021. This is in line with New York City Transit Authority data showing travel on the subway network in September at just over half the level of the equivalent period before the pandemic.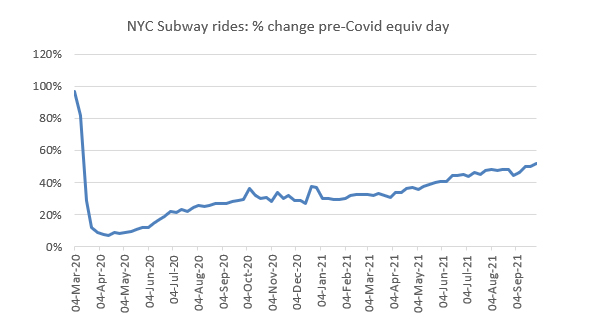 Source: New York City Transit Authority (MTA)
Based on current trends, London Underground exits for the sample should have reached around 60% of pre-Covid level by late October; so consistent with workers spending around three days a week in the office. All this is significant as two to three days a week is the most commonly cited figure for how often firms considering hybrid working say they would like staff to spend in the office.
Google workplace index data for the City of London paints a similar picture, rising from -75 in early January 2021 to -44 in late September / early October. This measures how many Google accounts on devices are operating from workplace settings in a given location compared to a pre-Covid baseline.
Hybrid experiment
This indicates both a gradual drift back to the office, and levels of occupation that will allow the long-anticipated experiment in hybrid working to commence. Even if there is another lockdown this winter, we would expect a similar return to office to occur, given this has already happened twice – between June and November 2020, and since the Spring of 2021. By around the Summer of 2022, firms will have an idea what the right balance is between home and office work, and will then be able to adjust their respective office footprints accordingly.
Consequently, by the second half of next year, we could see more tenant release space returning to the market for sub-let. However, recent evidence suggests the volume of office space that becomes surplus as a result of the move to hybrid may be less than some feared, due to the following factors:
Although firms may have staff coming in fewer days, most state that they want to see more collaborative working when staff are in the office. So, while companies may no longer have a desk for everyone, this will be accompanied by more breakout areas, cafes and meeting rooms being added. Therefore, it is unlikely that a company moving to an average four day week would be disposing of 20% of their space; the actual figure will probably be less.
With the economy accelerating in 2021, companies are re-evaluating whether to reduce floorspace. In 2020, the KPMG Pulse survey of 500 global CEOs found 69% expected to downsize their office footprint. By 2021, this had shrunk to just 17%. Generally, as companies move into cyclical upturns they plan for growth not consolidation. Some firms consequently may decide to retain space freed up by hybrid working to house future headcount growth.
Re-enforcing the above point, our North American research shows that recent months have seen large amounts of sub-let space in New York City being withdrawn from the market – 2.0 million sq ft in Q2 2021 and 2.7 million sq ft in Q3. There have also been examples of occupiers in London withdrawing sub-let space from the market, such as HSBC at The Blue Fin Building, and Monzo Bank at Broadwalk House.
There are examples of firms going to surprising lengths to entice staff back to the office, demonstrating a determination to keep the office centre stage. A report in the Financial Times mentions companies offering cash bonuses, free meals, yoga classes and even celebrations to encourage a return to work.
While home working has worked well during the reduced business volumes seen in the pandemic, busier times may bring more pressure to come into the office. For project work, it will always be faster to speak to the person at the next desk than to keep phoning them with questions, and such incidents can spark dynamic conversations that promote knowledge sharing.
Demand for desks will inevitably ebb and flow in a hybrid environment, particularly as business volumes rise and fall. So, hybrid will necessitate the maintenance of swing space by firms, or memberships of coworking centres.
Seeking recognition
There is also the 'Hawthorne effect' to consider, which argues that people work harder when bosses and colleagues are in sight – driving a sense of competition for promotion, higher bonuses and recognition. In the financial sector, bonuses are often decided towards the end of the year, which may encourage staff to spend more time in the office in the coming months.
Moreover, firms are also pursuing 'soft' diplomacy to lure staff back, like holding 'event' days in the office, and encouraging team socialising to create 'fear of missing out' on the positive aspects of office life. The reawakening of London's afterhours economy, with more theatres and concert venues reopening, will add to this drift back into the city centre. It should be remembered that the centre of London was unattractive to office workers during Covid in part because everything was closed down – that is no longer the case.
In the context of all these factors. it is perhaps unsurprising that an increasing number of office-based firms appear confident enough to press forward with their post-Covid property strategy. Our Q3 2021 analysis indicates that London saw a third consecutive uptick in quarterly take-up to 2.4 million sq ft – the best figure since Q4 2019. This was underpinned by a spate of lettings above the 50,000 sq ft mark for a broad range of occupier types including Facebook, Travers Smith, The Office Group and T Rowe Price.
This demonstrates that a large quantum of office space in London will still be needed by businesses in the future. What will change is that our previous assumption of five days a week in the office is going to be replaced by a dynamic use of space, that ebbs and flows with the business cycle. While overall occupation of space is set to decline in the near term, headcount growth will lead to a gradual re-occupation over the medium to long-term. Conversion to residential use will remove the surplus.
A lot of change is ahead for the office sector, but we should view hybrid as a step towards a sustainable future not an abrupt downsizing.