News Item - Belfast
Ongoing ecommerce boom results in record big box take-up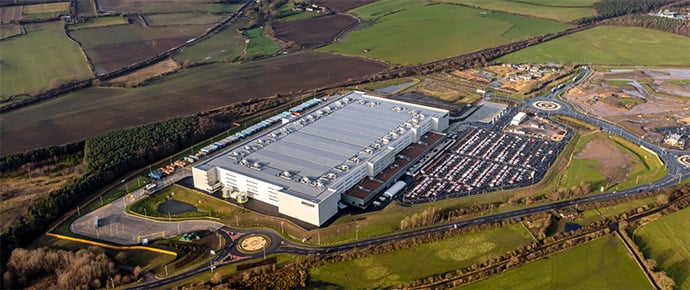 August 3, 2021
Avison Young releases analysis of industrial market for first half of 2021.
H1 2021 Occupier market
"Occupational activity for big box warehousing has reached record levels for the first half of the year, continuing the e-commerce fuelled momentum gathered during the second half of 2020," says Andrew Jackson, Principal and Managing Director, Industrial at Avison Young.
Take-up of large grade A warehouses (> 100,000 sq ft) amounted to 25.8 million sq ft, 73% up on the five-year, six-monthly average and a staggering 46.1 million sq ft over the past 12 months.
Activity in H1 was driven by ecommerce, whether from retailers directly or third-party logistics providers. The non-food retail sector accounted for 44% of demand, with Amazon leasing 13 units totalling 5.4 million sq ft, as well as taking a further 500,000 sq ft of contracts with 3PLs. Activity from third party logistics companies has also been strong, accounting for a third of the space taken.
There has been a welcome return to activity from the manufacturing sector, which amounted to over 4.4 million sq ft. The bulk of this came from Jaguar Land Rover's long-awaited 2.9 million sq ft deal at Mercia Park, Ashby-de-la-Zouch.
The largest six deals of the half year (>700,000 sq ft) were all design and build. With the diminishing supply of second-hand space, the proportion of take-up of speculative units has increased to about a third from 20% for the previous five years.
The East Midlands led regional take-up in H1, with a record 9.3 million sq ft. Yorkshire and the North East, the West Midlands and the North West all sustained strong activity from 2020.
The exceptional demand has reduced supply of big box units to 22 million sq ft from 25 million sq ft at the end of 2020. Furthermore, the make-up of this supply has changed, as standing stock has fallen by 43% since the end of last year and speculative space under construction has doubled. With a considerable amount of space under offer and there being no let-up in demand, supply levels are expected to fall further during the second half of the year. This shortage will be exacerbated by the delays to construction. With speculative and design and build construction at high levels, there is a strain on both building materials and the availability of contractors' workforce.
"A combination of this strong demand and tight supply have had a significant impact on rents. Over the past 12 months prime rents have increased from £6.75 psf to £7.50 psf in the Midlands and from £20 psf to £23 psf in Park Royal. This strong growth coupled with diminishing land availability and yield compression has resulted in a step-change in land values," adds Robert Rae, Principal & Managing Director, Industrial, Avison Young.
H1 2021 Investment market
The exceptional level of investment activity for distribution warehouses across the UK, seen in H2 2020, has continued into this year. Total volumes amounted to £3.9 billion to the end of June, 80% up on the five-year half-yearly average. So far, industrial property has made up 32% of commercial property investment volumes during 2021, a record for the market.
Overseas investors dominated activity, making up 59% of deals. Specifically, investment from the North America accounted for 90% of all overseas investment. American investor Blackstone Real Estate has dominated the market for the second year in succession, acquiring the Albion portfolio (£283 million) and Vantage portfolio (£187 million) as well as Bedfont Logistics Park for £119 million. Meanwhile Canadian investor BentallGreenOak agreed the largest deal of the half year, £303 million for a portfolio of seven logistics assets on core logistics parks.
Meanwhile, UK institutions made up 20% of volumes and UK property companies 17%. Activity was led by Aberdeen Standard Investments, which included two deals at Hinckley 532 and South Elmsall, while Tritax Big Box Reit agreed the single largest deal for a UK property company during H1.
The breakdown of investment volumes by location shows the strongest activity was in the East Midlands (20%) and London, the South East and East (20%), followed by the West Midlands (14%), with portfolio deals making up a 29% of activity.
Tom Bridgman, Principal, Investment at Avison Young notes, "the demand for distribution assets will remain strong, largely driven by investor appetite for long income, structural changes in the retail sector and the weight of global capital. With the lack of supply in the occupational market we expect further rental growth. Investors will continue to be attracted by what is perceived to be defensive stock. We therefore expect further yield compression, which is already at record low levels."
To view the latest Big Box Bulletin for H1 2021, please click here.