News Item - Coventry
Durham Innovation District seeks joint venture partner to bring trailblazing vision to life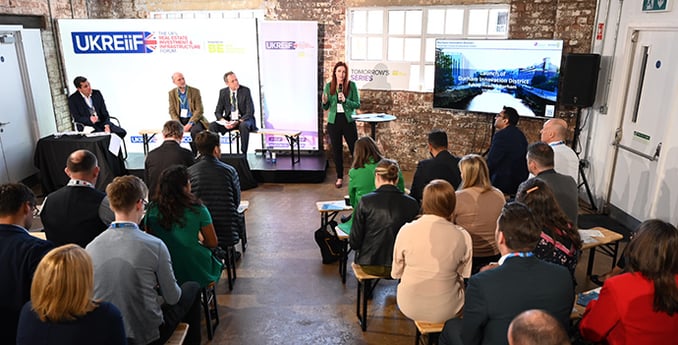 October 4, 2023
Durham County Council has teamed up with world-leading research institution Durham University and global commercial real estate services firm, Avison Young, to launch the opportunity for a joint venture partner to be involved in the cutting-edge research and business accelerator, Durham Innovation District.
The project was launched at Built Environment Networking's Tomorrow's Science and Innovation Clusters event in Birmingham on Tuesday 3rd October, featuring a panel of key figures behind the innovative project, who discussed the potential impact and opportunities the district will create.
The panel included Amy Harhoff, Corporate Director of Regeneration and Growth, Durham County Council, Professor Colin Bain, Pro-Vice-Chancellor (Research), Durham University, Mr Edward Twiddy, Director of ESG and co-founder of Atom Bank and Stuart Howie, Head of Regeneration at Avison Young.
Plans for the District will give businesses access to talent, research, networks, and resources within a setting that combines high-quality infrastructure and amenities within one of the UK's most progressive regions. The project brings together public, private and education sectors to help drive innovation across multiple industries including environmental science, technology and engineering.
Located at Aykley Heads in the heart of Durham City, this first-class site will deliver a high-quality innovation campus with room for circa 400,000 sq ft of commercial development.
Focusing on the maximisation of economic growth, investment into the district will be focussed on key niches, such as fintech, data science, computing, low carbon energy and healthcare – where businesses can benefit from world-class talent and research from Durham University.
The Durham City Incubator is already located at Aykley Heads, supporting university spins outs and high-growth potential start-ups, as well as national and international innovation businesses, many of which started as simple ideas, and through the support of Durham University, have grown into commercialised products and services.
Durham is home to a number of innovative businesses, including Atom Bank, sustainable product developer, Low Carbon Materials, digital and cyber consultancy Waterstons and radiation detection company, Kromek.
Amy Harhoff, Durham County Council's corporate director for regeneration, economy and growth, said: "Durham City Innovation District is of international significance and home to major businesses and institutions including the Durham University Business School and Atom Bank. We are delighted to bring forward the latest opportunity for investment at the innovation district with 15 ha tranche of land at Aykley Heads.
"We are seeking a joint venture partner to support us in delivering a vision for international, world-leading capabilities, at this attractive green oasis right in the heart of Durham City, only five minutes' walk from the train station and with views of the UNESCO world heritage sites.
"We are bringing this opportunity forward as the region enters into a strategically important transition to establish a Mayoral Combined Authority (MCA). With an initial £4.2billion regional devolution deal and the formation of one of the largest MCAs in the country, this development comes at an important time for our region.
"The development of Aykley Heads is identified as a key strategic priority in the devolution deal, which reflects its regional importance and the widespread recognition of the role it has to play in enabling growth in the North East.
"For our part as a council, we are wholly committed to the delivery of this site. We are relentless in our ambition and confidence in County Durham, and through bold investment decisions and working with partners we've demonstrated over and over that we have an approach which underpins growth and success.
"Our successful model of the triple helix government, university and private sector is tried and tested, most notably at NETPark Sedgefield, a thriving 72ha hub for science, engineering and technology companies trading globally. This track record underlines our confidence that we can deliver something truly extraordinary at Aykley Heads."
Professor Colin Bain, Pro-Vice-Chancellor (Research) at Durham University, said: "Durham University is home to world-leading research and innovation in fields as diverse as green energy, finance, big data and healthcare. We continue to champion all that County Durham has to offer and play a significant role as a driver of economic prosperity - supporting jobs, attracting investment, and sparking pioneering partnerships, spin-outs and start-ups.
"Our strategic partnership with Durham County Council creates a framework of co-operation to leverage both our knowledge and ideas, and the scale, capability and capacity of our organisations to make a real, positive difference in the county and on the global stage.
"We're delighted to be involved in this key milestone in delivering the Durham Innovation District, which has the potential to be a truly transformational driver in our shared vision for County Durham as a highly attractive place to live, work and study."
Stuart Howie, Head of Regeneration at Avison Young, said: "Aykley Heads is already home to existing innovation-led businesses; however, this partnership will create a world-class campus to harness further innovation and investment, delivering economic and social benefits across the region.
"This is a brilliant opportunity for investors, developers and operators who excel at delivering innovation-led growth."
The Innovation District represents a significant opportunity to catalyse economic transformation. Potential delivery partners or investors interested in this exciting opportunity who wish to find out more should contact [email protected].